Rinascimento Atelier: a capsule of elegant clothing, designed and made in Italy, worn to make special occasions even more magical.
Characterised by a romantic style, the Rinascimento Atelier pieces express sophisticated femininity, elegance, care and attention to detail.
Designed for bridesmaids, thanks to the modularity of colours and silhouettes, the Capsule also lends itself to dressing women for their most important and elegant events: weddings, special occasions, birthday parties and all those times when you want to feel like a real princess.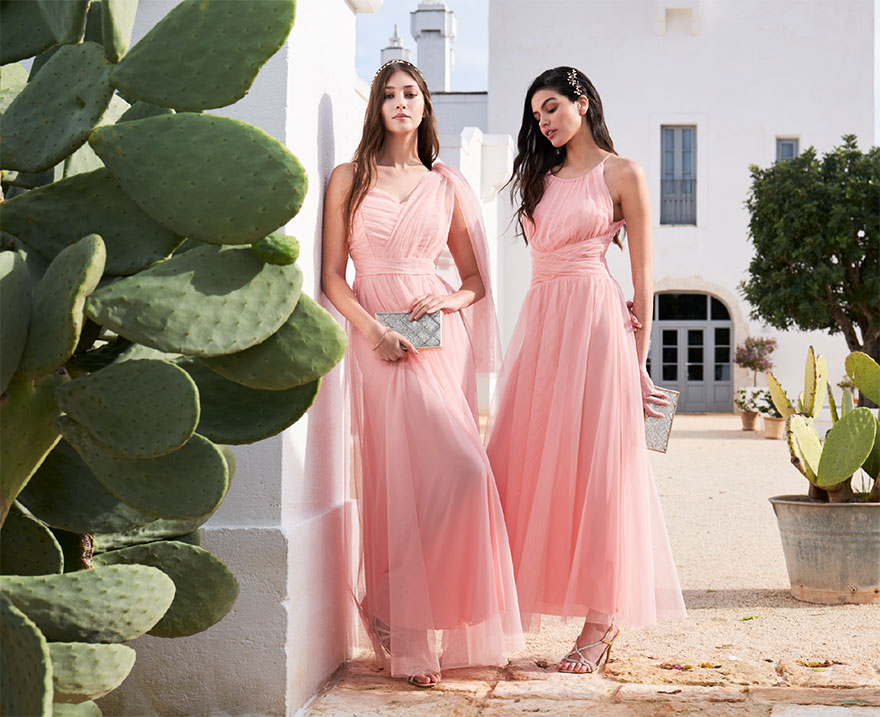 Tradition dictates that bridesmaids' dresses, whether short, medium or long, should be colour or pattern coordinated.
Choose the model you like best and match it with the other bridesmaids to be the most beautiful and coordinated bridesmaids. The colour, fabric and pattern must meet the needs of the bride, but also please all members of the group. With different styles, we try to meet the diverse needs that can emerge in a group of bridesmaids.
Five dresses in three colour variants come with a stole and a shrug, in satin and technical fabric respectively, in matching colours to complete every outfit with elegance. The colour may vary according to the season and depending on the wedding theme chosen by the bride and groom. Rinascimento Atelier's designs include three different shades to allow each seasonal palette to stand out and meet the diverse needs of bridesmaids in 2023.
Ruffles: the most romantic detail
Can a small fabric detail make a garment romantic and feminine? Absolutely. Ruffles are also a tactical ally to cover areas we don't wish to show, such as the hollow between the arm and shoulder, which in religious ceremonies should always be covered.
The fabric par excellence is georgette or crepe georgette. Its lightness makes the ruffle detail airy and light.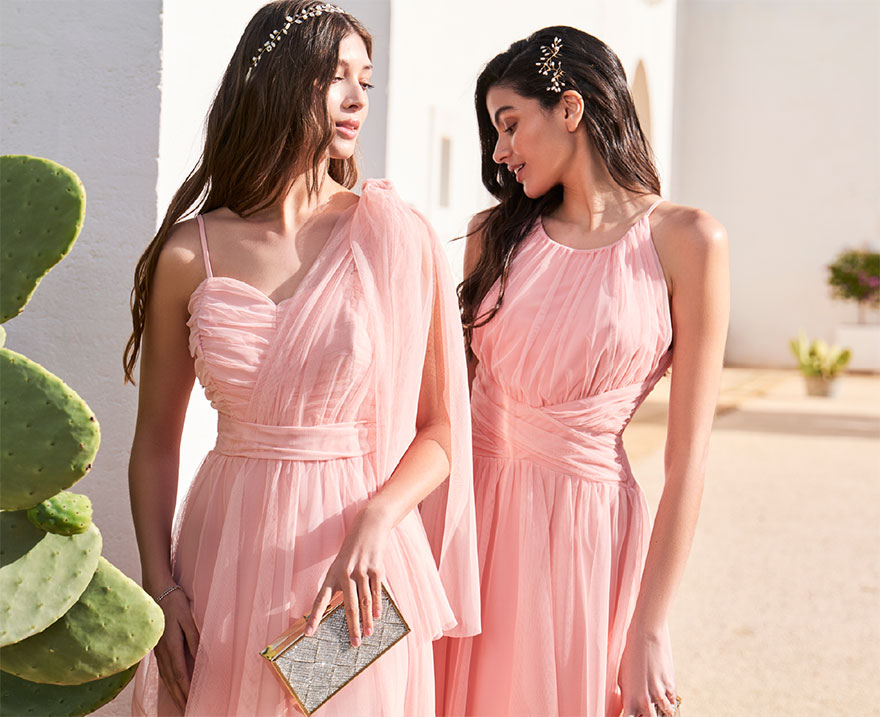 Tulle is for Princesses!
The fabric that makes us dream the most is undoubtedly tulle, to be worn layer upon layer for a true princess look.
Full skirts, draping and romantic details for a special day.
The icing on the cake? Multi-purpose ribbons! Have fun interpreting the garment as you wish: a romantic torchon, a one-shoulder version, knotted as a shrug or flowy for dancing!
Our skilful designers care about your comfort and have carefully fitted the inside of each tulle garment with soft jersey to guarantee the best fit.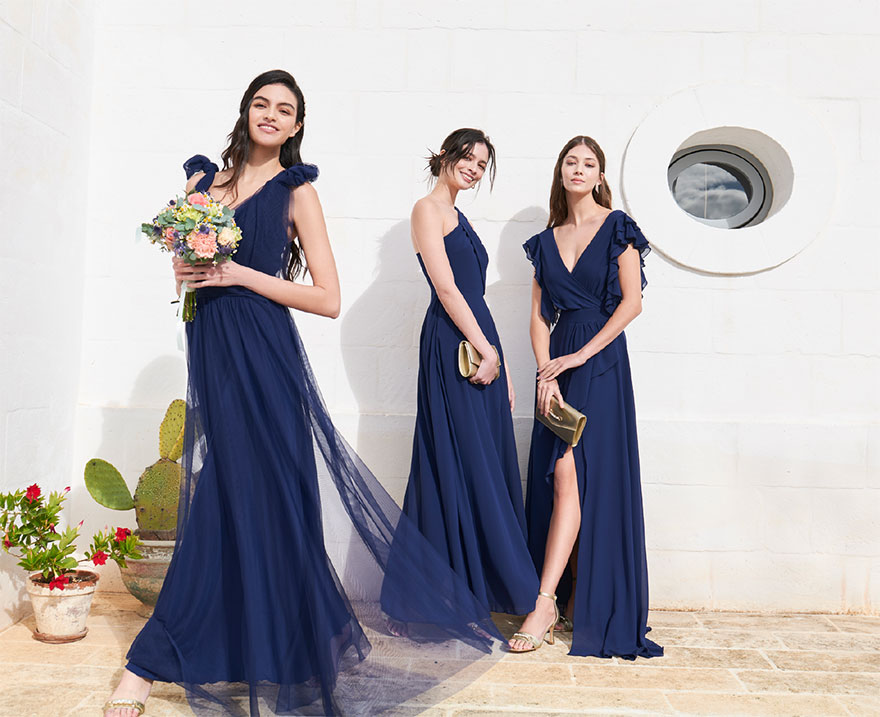 One-shoulder: tailored elegance
Clean, essential lines and one-shoulder cut. If your idea of elegance is pure and simple, the one-shoulder dress is the solution for you.
The compact fabric from which our one-shoulder model is made accompanies your movements, enhancing the clean-cut silhouette
The side slit adds an essential seductive touch that will give your figure character and femininity.
Play it smart and choose a hairstyle with a side parting for this outfit, leaving the bare shoulder uncovered: wear a pendant rhinestone earring to be extra shiny and irresistible.
Bows, everywhere!
It's no secret that we have a passion for bows here at Rinascimento.
We can't resist the romantic and feminine touch they add to every garment on which they're applied. For the Atelier capsule, we chose a sleek and wet-effect satin fabric.
The model with bow-effect straps is ideal for those who, like us, cannot do without a bow on their outfit.
The bow-effect straps can also be worn on the shoulders, covering them, or leaving them loose around the arms.
For the Atelier Collection we have chosen contemporary, delicate and romantic shades, designed to be compatible with all types of women and palettes.
The final touch: accessories & footwear
Once the dress is decided, all that remains is to choose the accessories to customise your look.
Give way to shiny micro-bags and sparkling sandals, tiaras, precious headbands, earrings and bracelets to beautify and shine.
Floral details, such as bracelets or head garlands are a must. These must be chosen together with the bride, coordinating them with the floral arrangement of the ceremony.
The Atelier capsule collection is the ideal choice for bridesmaids who wish to accompany the bride on the most important day of her life, with coordinated dresses, but it's also perfect for being the most elegant guest.
Our Customer Service is always available to advise and support you in choosing your Atelier dress