Starring: Giorgia Palmas X Rinascimento
Giorgia Palmas and Rinascimento present a selection of 2023 must-have autumn looks.

TV host, showgirl, model and mother: In a career spanning more than 20 years in show business and fashion, Giorgia Palmas has found herself in a variety of roles. She has built an aesthetic that is recognisable and admired by women of all generations who she inspires to follow her every style suggestion. She is an undisputed Made in Italy style icon, which she beautifully conveys with a balanced mix of Mediterranean elegance, sophisticated colour combinations and a spontaneous and natural personality. Giorgia is the queen of the daily chic style that we all dream of. She's the person for wardrobe advice and the friend to approve outfit photos. In short, when it comes to fashion, she is someone we can trust. It is her innate authenticity and femininity that make her the perfect choice to interpret Rinascimento creations.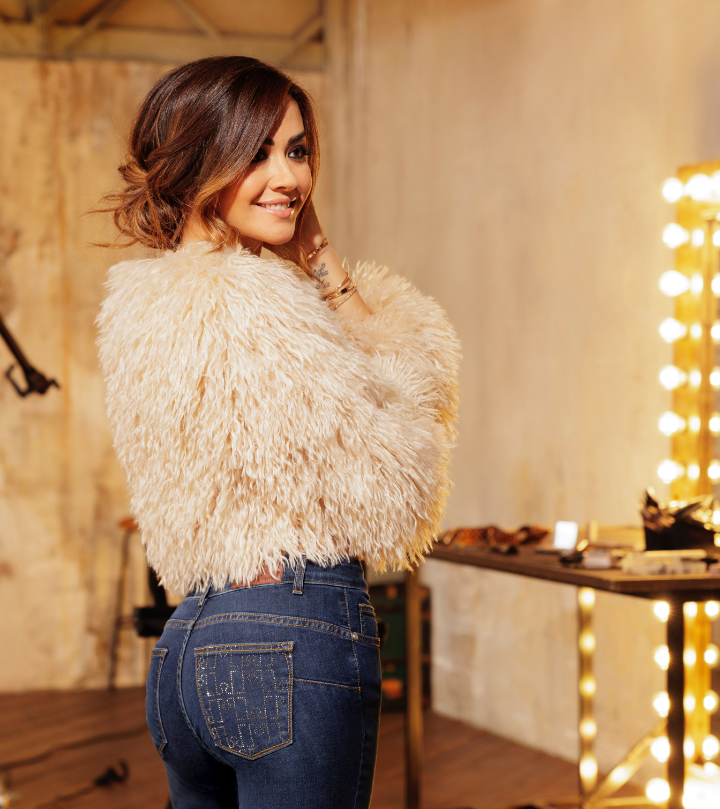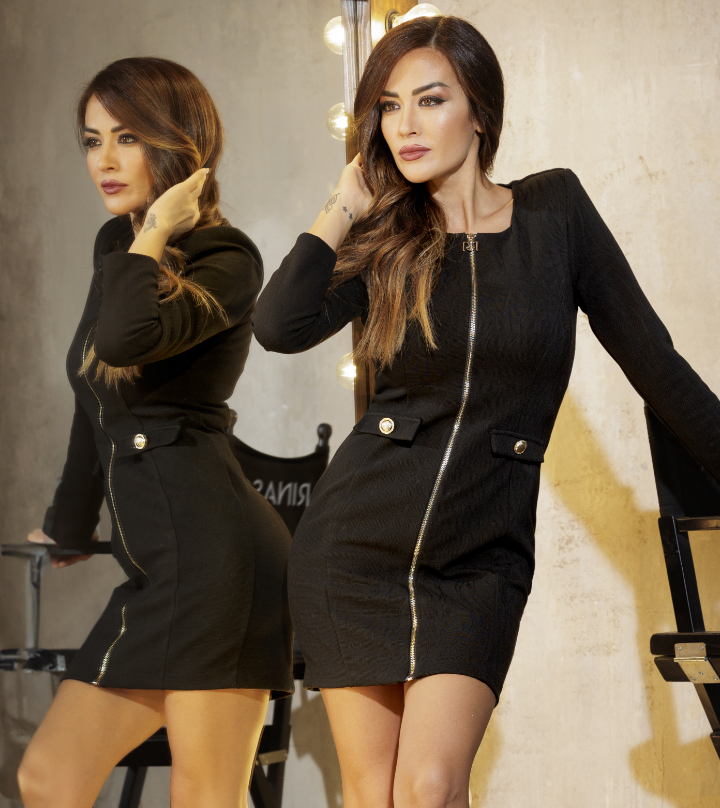 It's no coincidence that she is the face of the brand for the second season running, and we have asked her, now that autumn is here, to select everyday garments that can become the essential, versatile and timeless pieces that every woman should have in her wardrobe. The response? Five total-look outfits to wear at any time that include items which can be freely combined with each other to meet the needs of all women: a passepartout jacket, a corset, two models of jeans, two mini dresses, a coordinated knit set, a maxi cardigan and the ever-present short faux fur coat.

The photoshoot portrays Giorgia "behind the scenes" of her everyday life, in the dressing room before going on stage.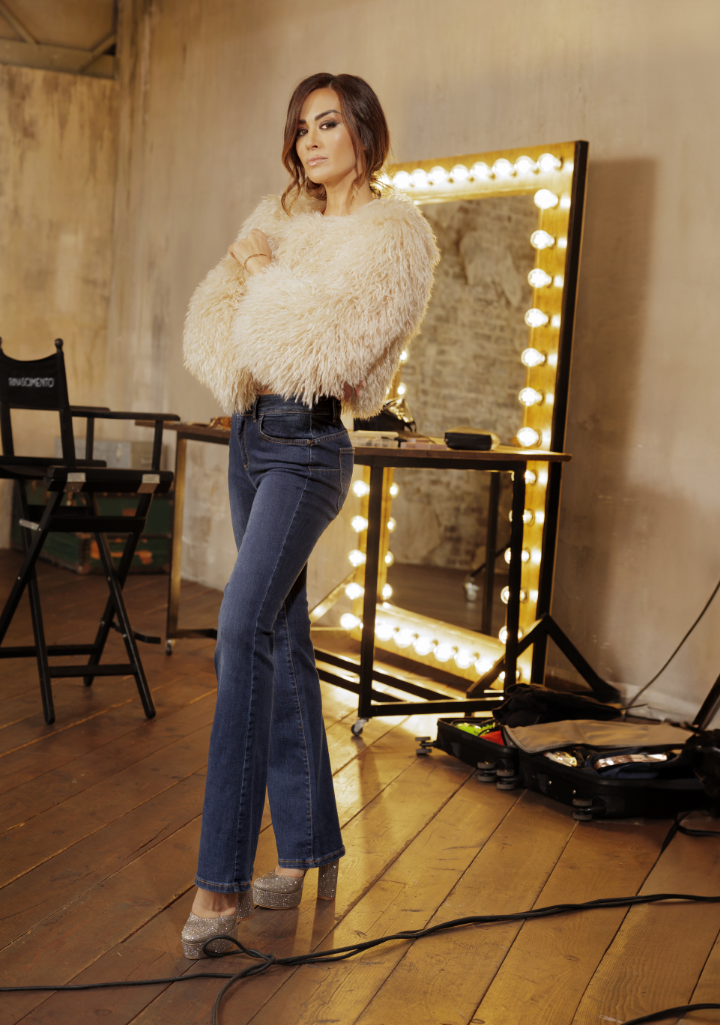 SHORT FUR COAT + STRAIGHT-FIT JEANS

Spotted at fashion shows, on Instagram and on the streets worn by celebrities, models and style gurus, the faux fur jacket is confirmed as one of the trendiest pieces of outerwear to face the cold weather. Short and sassy, it can be worn almost like a jumper and is perfect for layered outfits, balancing volumes and attitude to perfection. Styling with thick jumpers and oversized jeans should be avoided, but turtlenecks and soft blouses are the perfect match.
This is the ideal winter outerwear for when you want a sophisticated look but don't have much time to put it together.  In the evening it becomes the perfect jacket for mini dresses and short skirts, to be worn with tights and high boots. Giorgia interprets the Rinascimento faux fur fashion jacket in the daytime version by choosing a sophisticated but casual style: the delicate cyphre shade and the cropped shape of the garment contrast with the blue of the flared jeans, enhanced on the back by the rhinestone logo detail. It's the perfect combination to slim the silhouette, even more so if you add a pair of suede platform sandals.

BOXY JACKET + FLARED JEANS + BUSTIER

For a look that's stylish with a spontaneous and casual attitude, keep in mind that less is more. A hemmed contrasting boxy jacket is a great classic with timeless appeal that will give you a touch of sophistication even when worn with jeans or a pair of leggings. Giorgia invites you to experiment with a minimal and refined styling of the staple pieces in many women's wardrobes: a jacket and black bustier in matching woven fabric, paired with chic black flared jeans.

MAXI CARDIGAN + FAUX LEATHER DRESS

The return of the long cardigan is definitely one of the knit trends to watch out for. It can be worn over everything and, depending on the length, can become a soft alternative to a blazer or coat for a cosy feel. Now that autumn is here, this piece is that soft, warm layer we all need to get through the day, a must-have garment we can no longer do without, as well as the fashionable item to turn every outfit around. Giorgia interprets the animal-print jacquard maxi cardigan in an urban style, pairing it with a faux leather mini dress and a pair of combat boots, perfect for an edgy, modern look.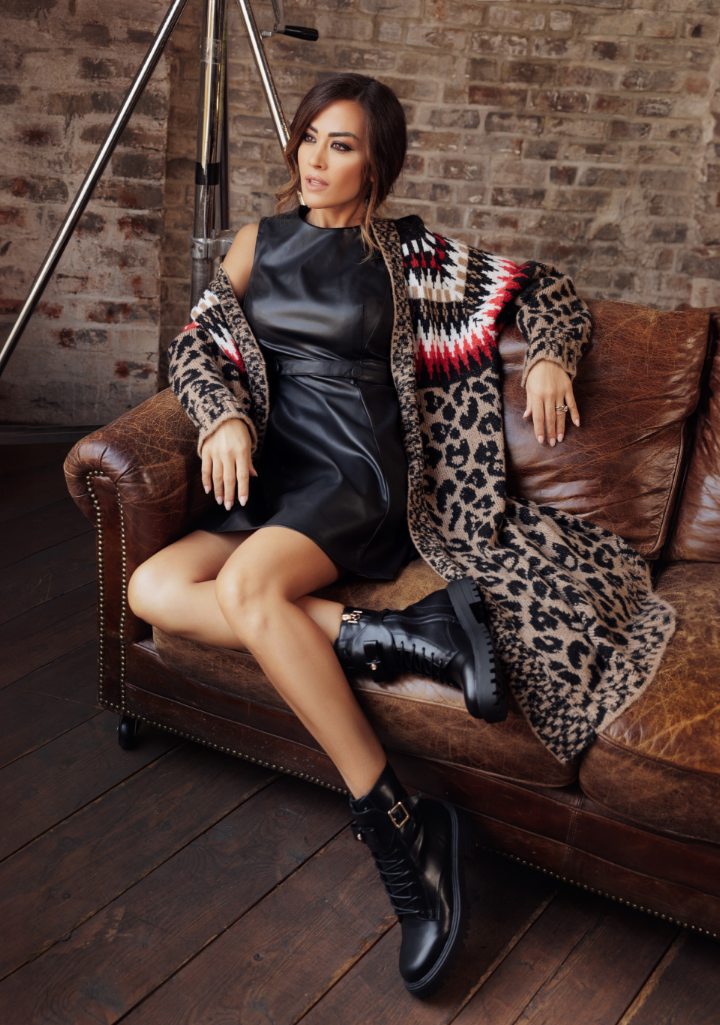 THE SET IN KNIT JACQUARD
Coordinated suits that have been a constant presence in the warm season thanks to their versatility are confirmed as a must-have for autumn and winter too, this time in a knitwear version. Why choose them? They ensure a trendy outfit with minimum effort, plus the fact that the two garments which make up the set lend themselves to other combinations and looks, solving any doubts about what to wear when leaving the house. Opt for the matching look with a short jumper and pencil skirt, united by their material, colour and high-impact geometric pattern – a look that's suitable for both leisure time with a pair of trainers or boots, and for more formal occasions paired with very high heels.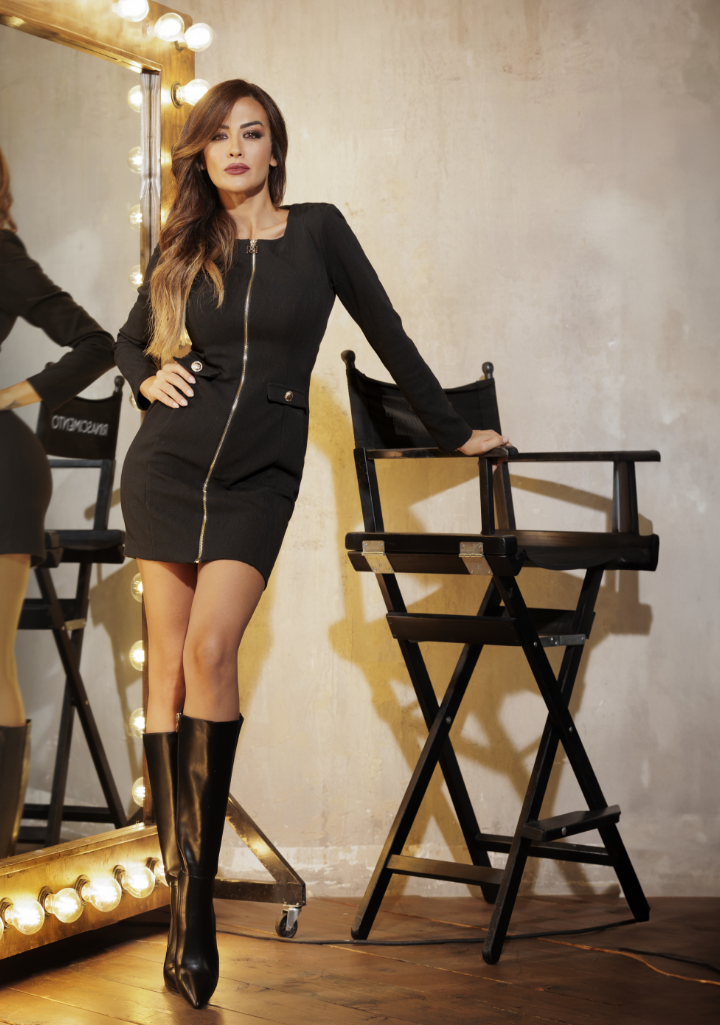 BLACK SHEATH DRESS

Choosing the perfect dress to usher in the wardrobe change is never easy, but this knitted sheath dress with embossed detailing and a central zip has all the qualities to stand out and become the staple of the autumn look, even with the season's varying temperatures. The close-fitting silhouette pays homage to the bodycon style of the '90s, but the stretch fabric wraps without constricting, emphasising any silhouette. The trend is a clean look without accessories during the day, with a pair of opaque tights, or in the evening with sheer tights and high heels.
The wait for the Palmas style is over. The Giorgia Palmas X Rinascimento selection is available online and in Rinascimento stores.