Rinascimento is thrilled to announce its first Bridal Collection, an exclusive capsule designed with craftsmanship and careful tailoring entirely made in Italy, created to make you feel like yourself on your wedding day.

Our primary inspiration for designing this special collection is the change of dress: the second dress after the official ceremony, an option chosen by many celebrities and one of the biggest trends of the year.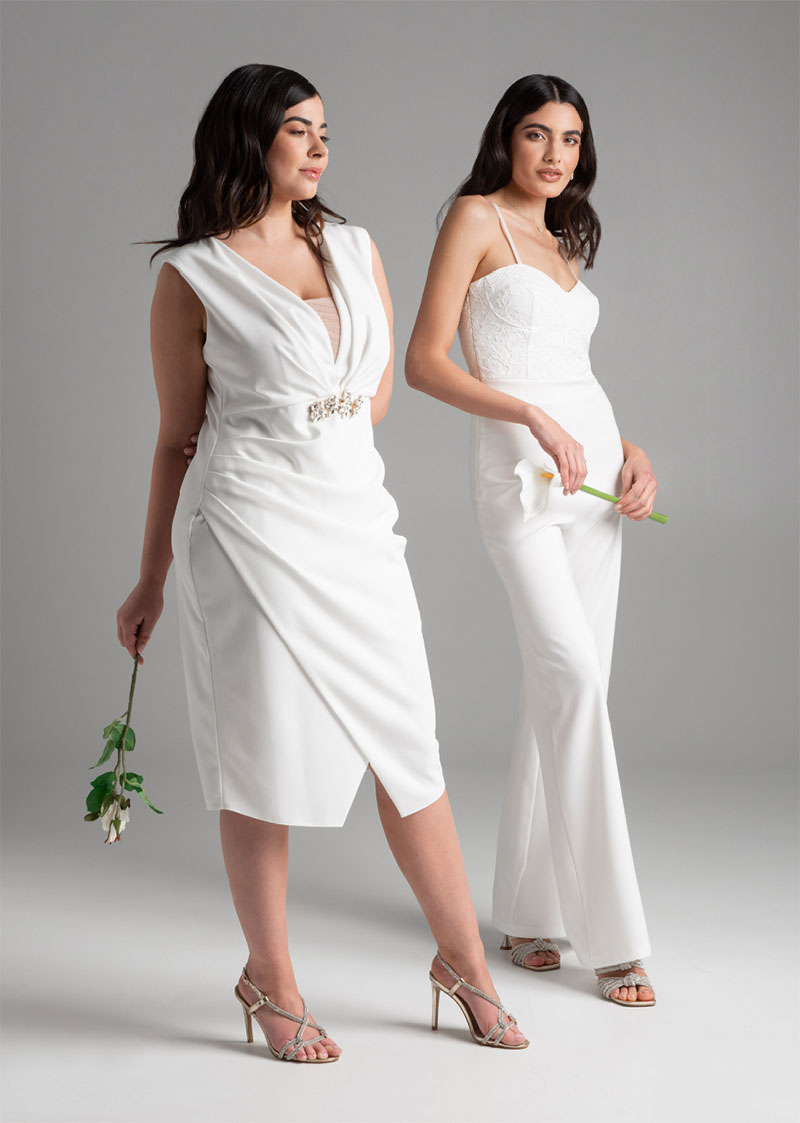 Flaunting a new look as a newlywed is a classy choice that embraces contemporary tendencies and is compatible with every personality.
Step out of the box, go wild during the reception, have fun with your guests and feel comfortable in total freedom with what you wear: these are all essential parts of the celebration of the most significant day in every woman's life.
The second wedding dress has become extremely fashionable, almost a must lately...
Choose the one that makes you feel great about yourself!
Rinascimento has thought of a range of proposals for all tastes, dresses adaptable to every silhouette in a variety of textures... flowy satin fabrics, fine satin, shiny details, large romantic bows, scalloped hems and garments that can be transformed by a delightful detachable tulle skirt for a more sassy look.
Change your dress before arriving at the venue, during the cutting of the cake or when entering the dance floor: it's up to you!
A surprise that will leave everyone speechless!
What style of dress should you go for?
Whether it's a mini-dress, sheath dress or long dress, it will be stylish, glamorous and functional, your unmistakably fashionable co-star of the day.
Another perfect moment for wearing one of the dresses from the new Rinascimento Bridal Collection is the civil ceremony, for which a more minimal and clean style is generally preferred without renouncing elegance.
A great choice could be the jacket and trouser suit designed for daring, free-thinking brides who prefer a contemporary style and love simple, essential lines.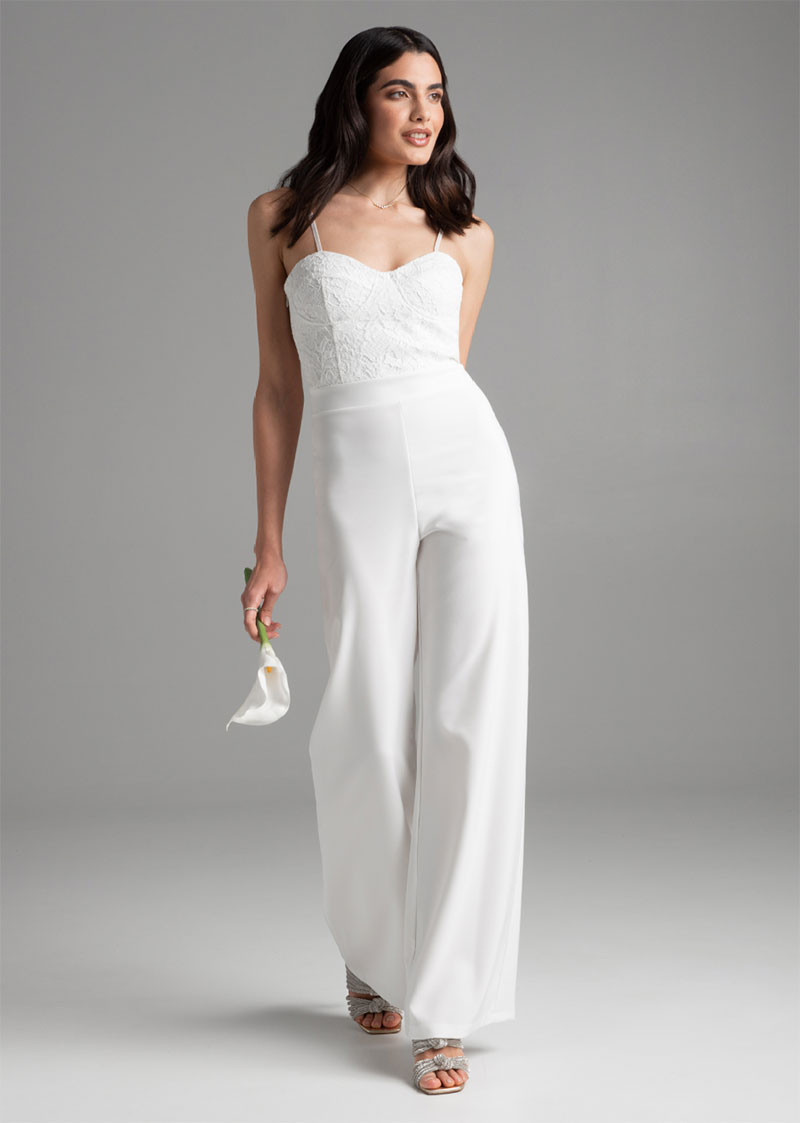 For a simple ceremony or a grand one, dare to wear the full-length jumpsuit with a lace bodice in a structured and extremely trendy design that slims the figure, ideal for moving around comfortable and partying without restraints, while exuding sophistication and style.

Choose your favourite dress from the new Rinascimento Bridal Collection, designed to provide a low-cost yet high-quality alternative for every bride-to-be who doesn't want to miss out on feeling enchanting on the day she's been eagerly awaiting and planning meticulously since she was a child.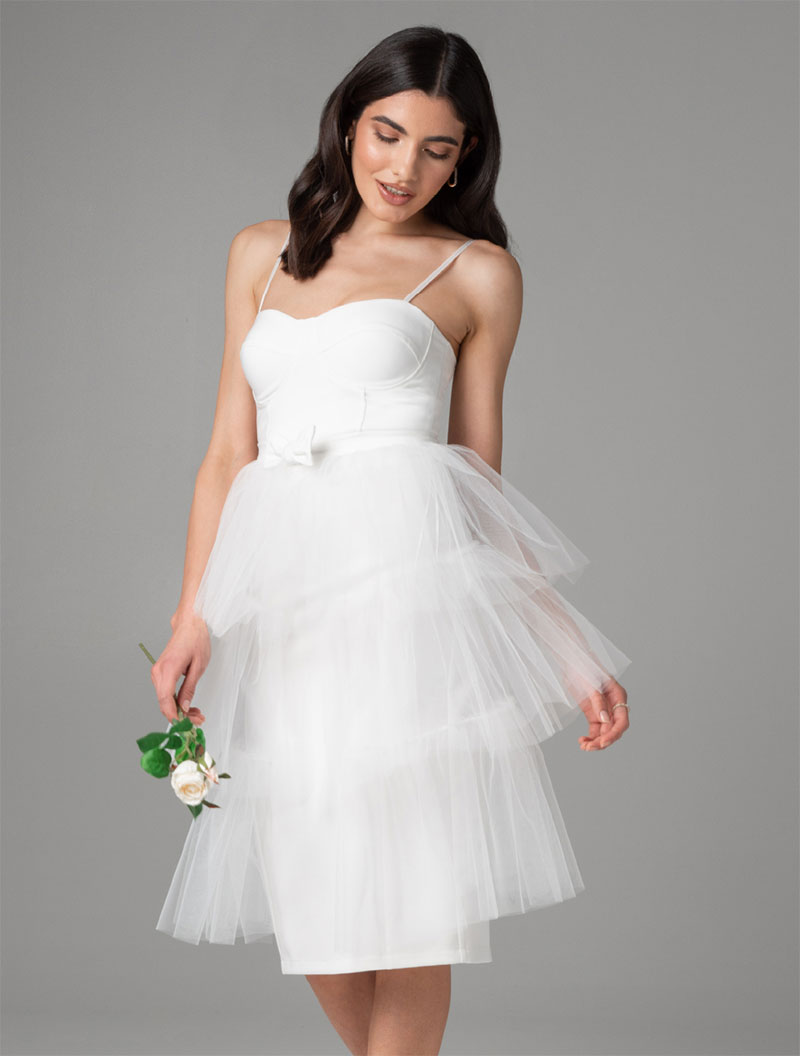 The looks of the Bridal Collection are also perfect for the momentous day of the wedding vows before the actual wedding, a timeless occasion that still retains a romantic allure in which to express your authentic femininity to the fullest.
During this very intimate and cosy celebration, opt for an original and sparkling style that makes you feel beyond comfortable.
The new Bridal Collection was created for every type of woman, regardless of what size she wears.
Three fabulous dresses from the curvy collection in different shades of white are designed to highlight the strengths of every physique instead of hiding under shapeless garments.
A romantic dress with a soft, flowing skirt, a midi sheath dress or the jacket and trouser suit for a breath of fresh air and innovation.
We use materials designed to enhance shapely figures. Doubled and lined fabrics, preformed cups, soft, curvaceous cuts are all details that envelop the silhouette of the most curvy brides like a second skin.
Our aspiration is for every curvy woman to rediscover her beauty and find pleasure in wearing a wedding dress that enhances her body without compromises.
Too exposed? The solution is a pretty, versatile shrug, a simple but indispensable item that goes with every style without being bulky and that can be kept handy for when you need it. Plus, you can reuse it on other occasions.
The common thread of the Bridal Collection is the ultimate tradition of the colour white, a cool but very chic and bright shade, a symbol of candour and purity.
The colour white has always been recognised as the first of all colours, it represents freedom and new beginnings, it's the most suitable colour to choose for your wedding.