In the spotlight: party looks
Rinascimento and the showgirl Federica Nargi present the new capsule dedicated to evening looks. The spotlight is on what to wear for the upcoming festivities and winter parties, and we are already thinking about outfits for New Year's Eve because it's never too early to choose the most spectacular outfits in your wardrobe. We have a selection of special garments that are magnificently styled by an exceptional ambassador and dedicated to the most exclusive parties of the season. Designed to surprise and catch the eye, dramatic allure and feminine styles are embellished with a mix of textures with embroidered details and shiny glitter and sequins. Slinky dresses, elegant jumpsuits and coordinated evening outfits, suitable for both private and public events.

The star of the show: all-black. Embrace the holidays in style and be guided by our VIP looks, perfect for your special occasions. 
WINTER PARTY: WHAT DO I WEAR?

With Christmas and end-of-year festivities approaching, the question of what to wear to evening parties that combines aesthetics, dress code and protection from winter temperatures pops up once again, as it does every year. There is a solution... and it's simple. Go for an unforgettable dress or jumpsuit, with the only caveat being that you should combine any outfit with a coat, fur coat or cape that does not completely cover your outfit, while protecting you from the cold just enough to be able to go outdoors. In this way, the wow factor is guaranteed, without compromising on style for your big occasions. We're giving the green light on total-sequin outfits with dazzling reflections, sensual jumpsuits that leave your shoulders bare, elegant dresses for black tie events, micro jumpsuits to dance all night long...

Glamour, hyper-feminine, long, short and sparkling –  Federica Nargi's Rinascimento festive looks enhance your strengths with elegance and are perfect for all December, Christmas and New Year's Eve parties.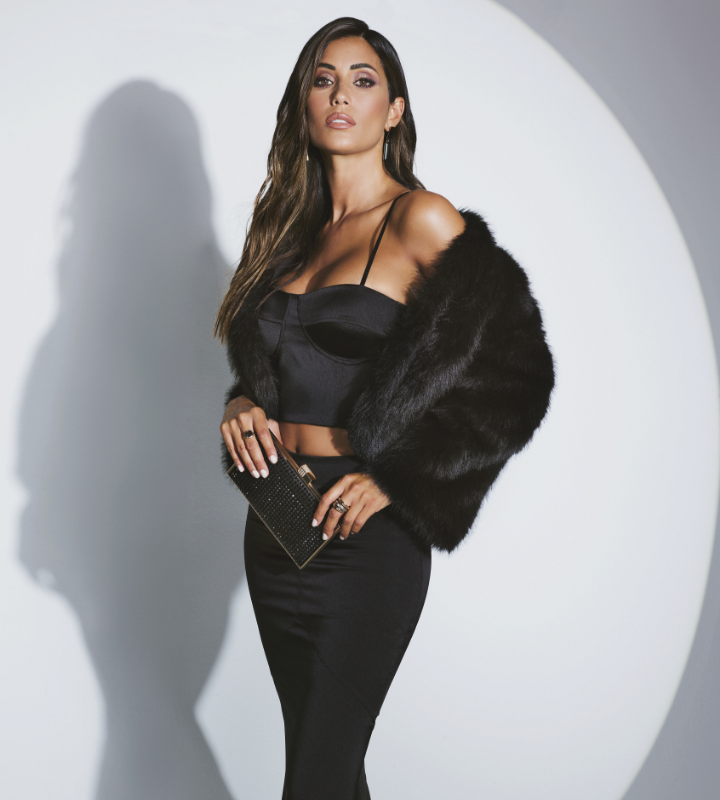 LINGERIE-INSPIRED

Think lingerie and a vintage style. It can also be totally transformed and become a super contemporary garment. The bustier top has become a wardrobe must-have that you can wear every day with a pair of jeans, but it's even better in a super stylish outfit for an unforgettable evening.  Just pair it with a slinky long mermaid skirt in shiny satin; a styling trick stolen from Federica Nargi's celebrity look, who completes the ensemble with a dramatic jewelled clutch. The finishing touch? A faux fur coat.  A hyper-feminine combination defined by a vaguely retro sophistication, which is ideal at an important dinner or birthday party. This festive look will turn you into the queen of the event! 
HOLLYWOOD STYLE

This look is striking and theatrical, reserved for a black tie soiree. We're talking about the long mermaid dress with a deep V-neck embellished with precious crystals framing the cleavage. The most elegant of long dresses offers a slender silhouette and a fabulous, sensual touch. Federica intensified the diva effect by wearing a pair of pumps with very high heels.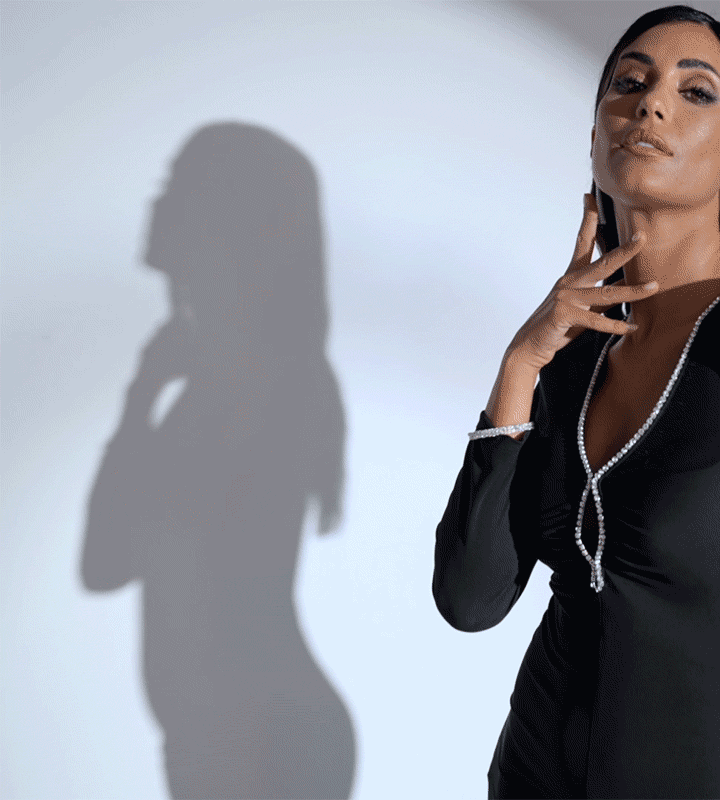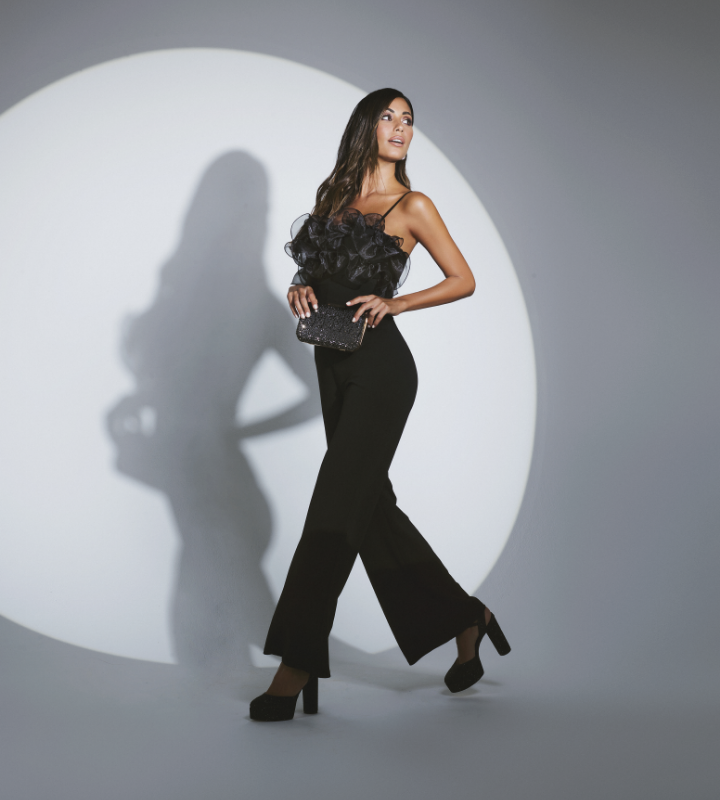 JUMPSUIT ROMANCE

This jumpsuit adapts perfectly to every body shape, slimming or accentuating the hips as needed. An elegant jumpsuit is the modern alternative to a cocktail dress. For a special party, Federica opts for the all-black model with straight trousers and a figure-hugging waistband. Top features: the maxi tulle ruffle decoration that frames the bodice, bringing the outfit to life and transforming it into a wearable sculpture.
SO GLAMOROUS

The sequined crop top can be worn casually, but if you prefer an evening look, pair it with the matching sequin skirt, featuring a sheath design with a deep side slit that adds a bold and feminine touch. The high waist elegantly enhances the bust; make sure you leave just a line of belly uncovered to ensure you always look great. By adding matching accessories, you will get a striking and bright look that will not go unnoticed, in full festive spirit.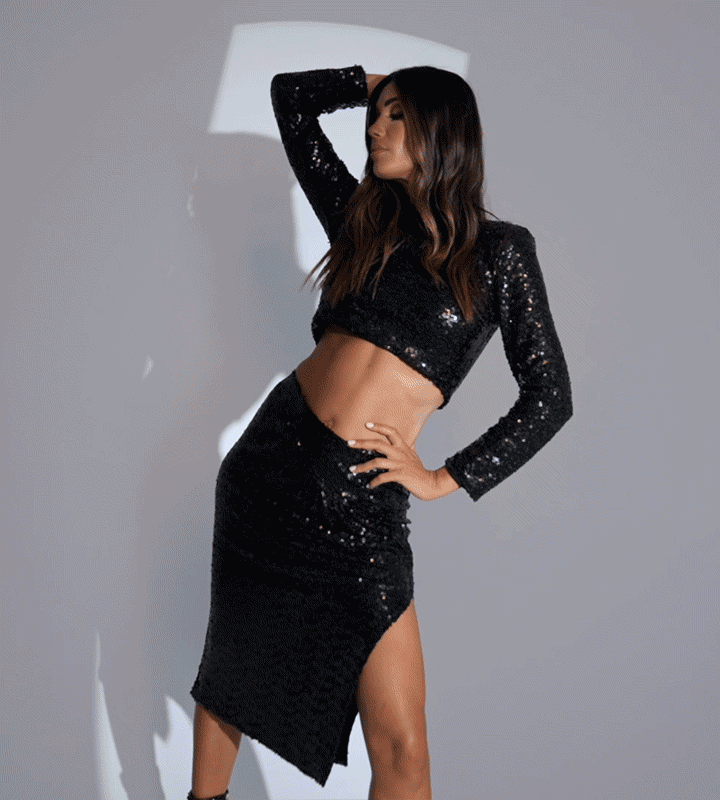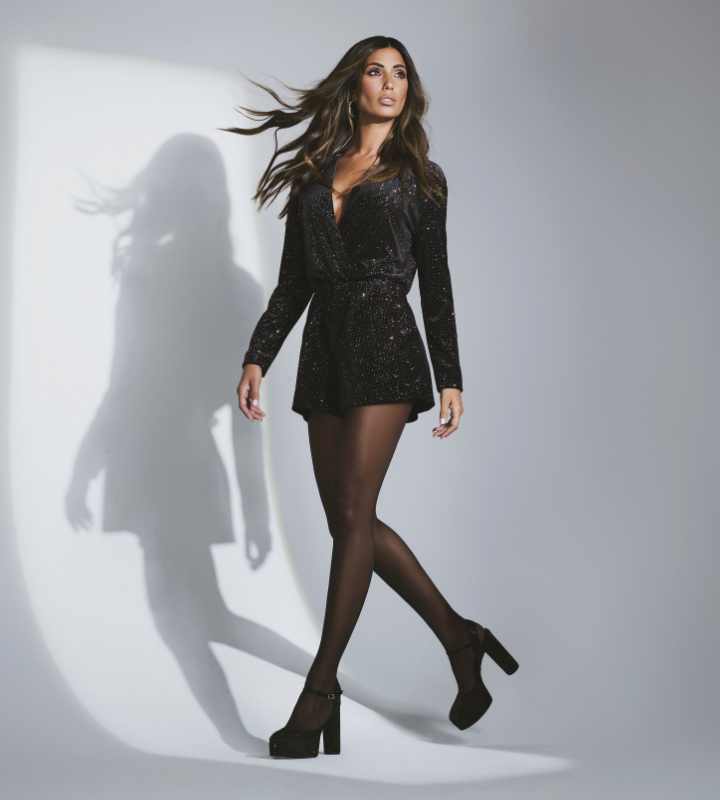 SPARKLING

Go for a shiny mini jumpsuit with all-over rhinestones and platform sandals that slim the figure. This combination is extremely versatile and suits curvy as well as petite figures. The draped bodice flatters the silhouette and the long sleeves cover any flaws – a style you can't pass up if you love sparkling outfits, to be complemented with a micro clutch bag. Off the dance floor, a pair of slouchy boots and a maxi coat are all you need for a more casual look.
The new evening looks selected by Federica Nargi are available online and in Rinascimento stores.