MIRRORED FEMININITY
New Campaign Rinascimento Autumn Winter '23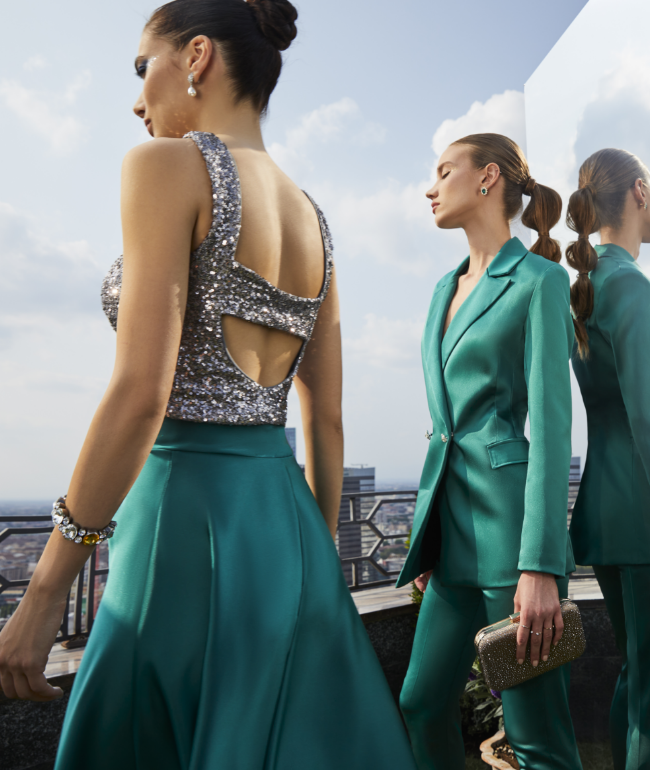 Reflections, gazes, encounters. Modern, dynamic and confident women. Elegant and hyperfeminine garments. Earthy colours embrace trendy silhouettes, geometric cuts and patterns inspired by the 70s. The city of Milan on the horizon, an open and modern gaze.

Breda Palace: An Elegant Stage
An exclusive location in the city of Milan, Palazzo Breda welcomes the new Fall/Winter '23 Campaign by Rinascimento with its magnificent elegance. Just like a painting coming alive, the palace becomes the ideal backdrop to tell the story of women and their view of themselves. The clean cuts of the clothes blend with the magnificent architecture, creating a marriage of art and fashion, past and present.

A Journey into Women's Hearts
As if through the reflections of a mirror, the infinite nuances of femininity take centre stage, represented by the iconic garments of the Rinascimento and Rinascimento Curvy collections. The brand has always celebrated the authenticity and beauty of every woman, as it does in its new, bold and sophisticated clothing collection, which aims to exalt and revolutionise women's perception of themselves. A journey through the countless faces of women, an experience made up of creations and superimpositions of images, hidden details, and versatile and innovative garments that give life to a new style every day.
Authenticity of the Feminine Essence
The new Rinascimento collection is a celebration of the authentic feminine essence. Modern and essential silhouettes blend with the brand's unmistakable aesthetics through splashes of colour, tailored workmanship and harmonious proportions that naturally enhance every physique, in all sizes. Masculine garments alternate with hyper-feminine dresses, creating a dialogue between strength and delicacy, austerity and sensuality. Earthy colours are mixed with geometric cuts and patterns inspired by the 70s to create unique and exciting combinations. Fashion becomes a tool for expressing each woman's personality and character, allowing everyone to choose and wear the garments that best express their essence on every occasion.

Reflections, Gazes, Shades
Through the mirror, unexpected details are revealed, what is hidden comes out into the open and into the foreground. Rinascimento invites all women to explore and embrace their own nuances to overcome the limits and preconceptions imposed by society and to rediscover their authentic nature. Every woman is unique and special, and Rinascimento fashion is the perfect ally to enhance your beauty, inside and out. The new Campaign is a unique experience, a journey through the eye of women, an invitation to celebrate femininity in all its facets.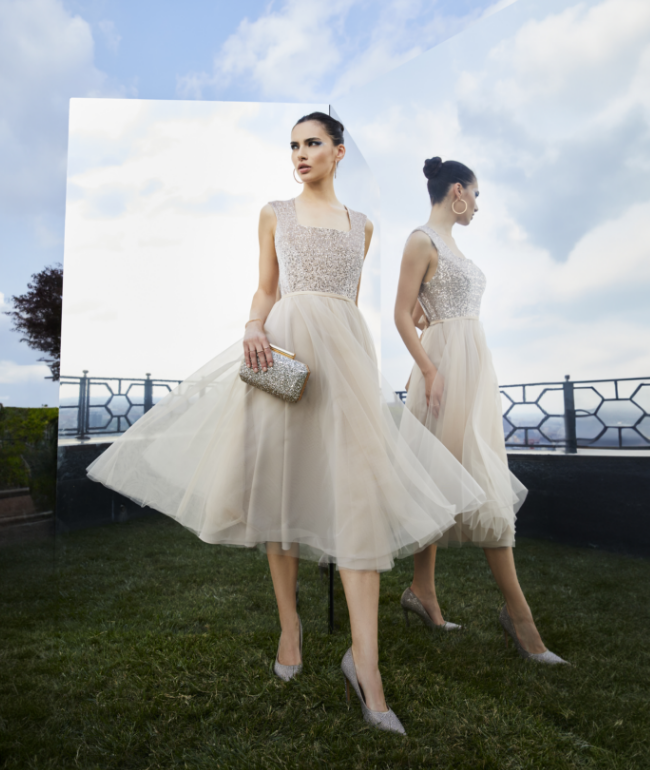 Special Occasion:
the new cover page look

Welcome to the season of special events! You are showered with invitations and it's time to think about the right look to impress. Late summer and autumn ceremonies prompt us to find new combinations of colours and fabrics to achieve elegant and sophisticated outfits suitable for the changing temperatures.

Would you like to impress everyone with a memorable entrance? Take a look at the Campaign's most exclusive Wonder Look selection that will make you feel like the perfect guest at every event of the season: weddings, ceremonies, social events, elegant occasions...

Define your idea of elegance by choosing between chiffon and satin, between floral prints or bold colours – you decide the dress code!

Discover our ceremony outfits in bright colours and unique cuts. Midi and long dresses embellished with large volumes and sculptural silhouettes are a great choice. As a romantic alternative, opt for the full skirt in duchesse satin paired with a rhinestone bralette or the hyper-trendy blazer customised with jewelled buttons. Alternatively, opt for the romantic chiffon dress, the new monochrome suits with a modern feel or the shiny touch of a sequined bodice – your entrance will be unforgettable and super trendy.
The ceremony style for Fall/Winter 2023 is defined by a fusion of classic elements and modern details. Fine and enveloping colours such as pearl grey, emerald green and midnight blue are ideal for creating a sophisticated and cosy atmosphere. Exquisite fabrics such as duchesse satin, stretch satin and chiffon tulle add a touch of luxury to dresses. Meanwhile, long-sleeved dresses and suits with structured jackets offer comfort and style for cool autumn days.

As for accessories, a sparkling clutch bag embellished with gold or silver details is the epitome of refined winter elegance, which can be paired with matching pumps. Sparkling jewellery and precious earrings complete the look, adding a note of glamorous elegance to every movement.

The ceremony and special occasion looks for fall/winter are inspired by the beautiful change of season, mixing traditional and modern styles, creating a perfect balance between elegance and comfort. With enchanting dresses and sparkly accessories, this season promises to be unforgettable.

Let yourself be inspired!