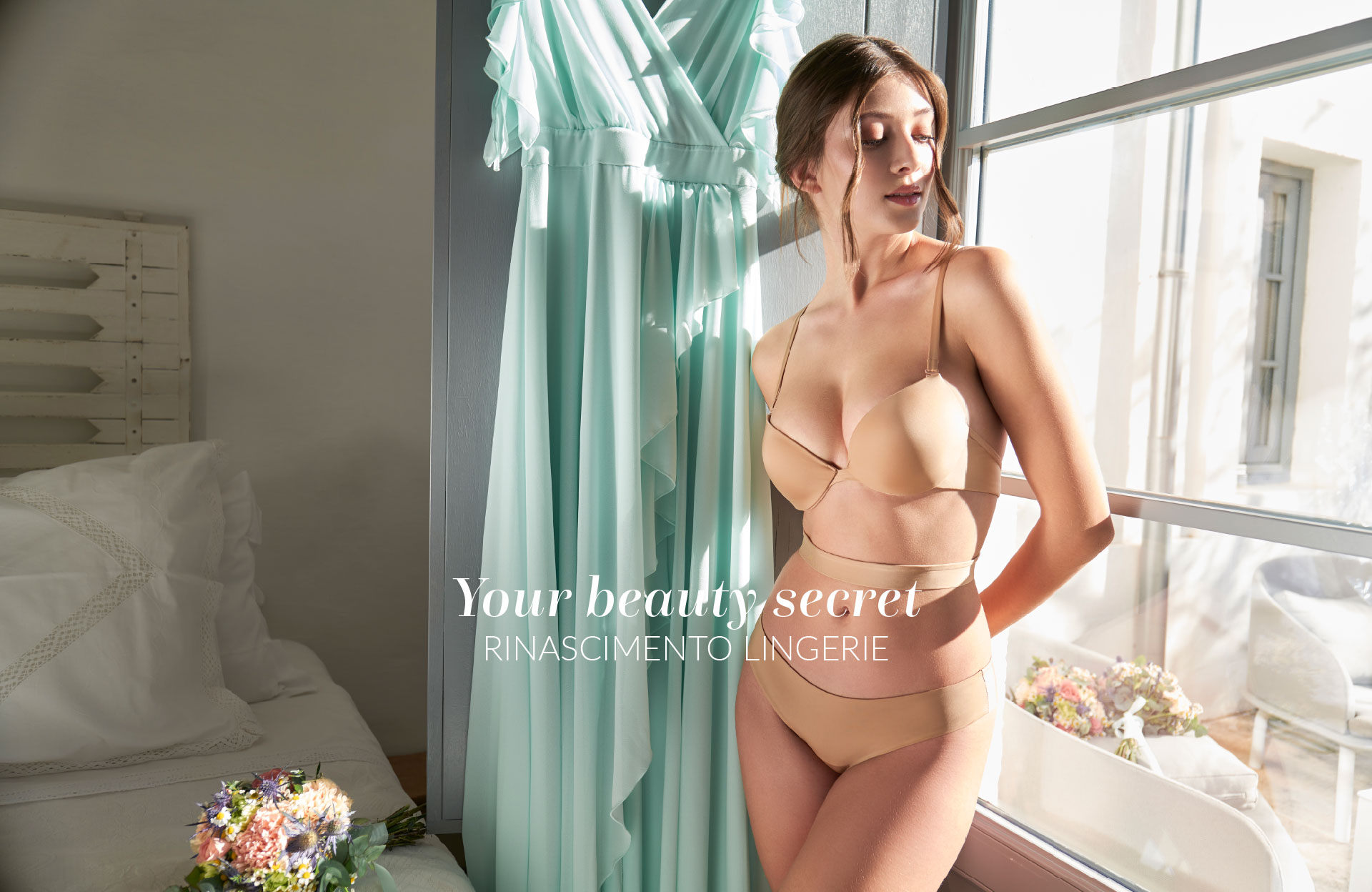 A Lingerie Collection designed, styled and modelled on women's bodies.
Your secret touch to make every outfit perfect from head to toe!
Listening to our customers' needs is the mission of our day-to-day work: we were often asked what underwear to pair with our garments, so we decided to create the perfect formula, to be worn both under our most elegant and elaborate outfits, as well as for everyday looks.
Milano, Bologna, Torino, Modena, Verona, Sorrento e Positano…
---
An itinerant tour through the Italian cities, celebrating femininity. Each city with unique and special characteristics, different from each other, yet similar in their Italian authenticity.
A collection with many looks, just like our personality!
Made of comfortable and refined materials, the new line was created to complete a woman's look with a touch of sophisticated seductiveness.
Floral lace with cordonnet, macramé-effect lace, ultra-soft microfibre and alluring tulle inserts.
• Lace • Invisible • Shapewear
The comfort of the undergarments you wear is an aspect that shouldn't be underestimated in the creation of a good outfit: try it to believe it! Say goodbye to elastic that leaves marks and annoying underwire!
Rinascimento Lingerie introduces a Collection of quality women's underwear, offering both a line of lace underwear that combines elegance, sensuality and comfort, as well as a line of shapewear underwear.
Designed to match the Rinascimento Collection to perfection, concealing the most critical points all while enhancing the feminine form. A trusted and precious ally that only you will know about.
Design, research, numerous tests, high-quality materials and continuous improvements ensure high standards and unique comfort.
All of our materials are verified and selected to ensure the best quality for the price point.
Once you wear one of these undergarments for the first time, you will no longer be able to do without the latest Rinascimento designs in your wardrobe!
Discover all bras, panties, bodysuits and briefs.
Lace, mon amour!
Choose your favourite from our bodysuits with refined floral-print lace inserts, or the push-up bra to match the Brazilian style brief.
Rinascimento Lingerie: classic, but with a modern touch.
The most elegant and precious of fabrics, graceful and seductive.
Inside-Out! Who said the underwear must always be hidden? Have fun reinterpreting the rules according to your own style, wearing our lace bodysuits and bralettes as under-jacket pieces, paired with one of our tailored suits: masculine but super glamourous and sexy!
Rinascimento Lingerie: Invisible and Shapewear Collection
A luxurious ally which is discreet and invisible, to ensure your looks are flawless.
Do you ever set aside a dress you love because it shows panty lines? An open-back blouse that you adore, but never wear because you can't find a suitable bra?
Look no further because we have the solution.
Multifunction shaping bras, such as our Milan push-up, the padded Rimini bandeau or the Venice invisible, which can be worn under any kind of neckline, even the most daring.
Weightless briefs with invisible seams, shaping biker shorts to match the skinniest trousers, sculpting microfibre bodysuits and slips ensure an impeccable silhouette even when worn under the most stretchy sheath dress.
A line of shaping underwear that you will never want to give up!
Compose and combine your own set, pairing the different brief styles with the bras of your choice.
The Brazilian briefs are comfortable and invisible, perfect for every look and flawless with the whole bra range.
Are you looking for shaping underwear for your stomach and sides that combines a perfect fit with a seductive detail? Our Palermo culottes are the ideal choice for you: polka dot tulle, lace band, flat seams and raw-cut edges.
---
Whether you are looking for bralettes in trendy colours, bodysuits to wear as an under-jacket piece for your most elegant night out or culottes capable of making your silhouette even more feminine, the designer Rinascimento Lingerie will be able to meet your needs and... you'll no longer be able to live without it.
Come and find your perfect match on our website.
Our shop assistants and Customer Care will be available to help you with your lingerie selection.