Styled by people, for people.
Rinascimento presents the Bantoa X Rinascimento collection, which brings to life the Bantoa Community's ideas.

A limited edition capsule dedicated to fashion lovers and made by 2 million hands: through a targeted questionnaire, the Bantoa Community was able to dictate their style and choose the models and details of the new Rinascimento collection.
2Tees. 2Pants. 2Blazers. 1Jeans. 1Dress.
This is a special project dedicated to those who have always created outfits with Rinascimento products, who were finally able to experience their fashion designer side. In addition, thanks to a dedicated contest, five lucky members of the Bantoa Community became the face of the new collection.

From the stylistic choice of garments and finishes to the final shoot, the Community's involvement covered the entire creative process.
WHO IS BANTOA
Bantoa is a real, totally feminine social network for style lovers, which every day connects 2 million users who are passionate about the fashion industry, constantly seeking an active and more personal connection with products, brands and trends. Its strong point, in fact, are the outfitters, i.e. those who build a role as influencers within the platform by posting new total-look outfits every day and offering fashion advice to all other users. "Playing" with fashion is the idea. There are no limits, each person has their own personal style that makes them unique and that feeds a true mosaic of looks and new nuances that the individual product acquires once it has been interpreted in outfits.
Curious to discover the cult Bantoa X Rinascimento pieces? Get inspired by the stars of these shots, with extraordinary performers in the dual role of fashion designers and models. Real women, with different personalities, wearing the wardrobe must-haves, designed to add a touch of glam to your everyday look. Please note: these special pieces work great with each other, but can also be paired with garments from your wardrobe. The fateful question "What should I wear today?" will no longer be a problem...

Fashion is an ever-changing world, but there is one garment that remains unchanged in its status as a timeless icon: the T-shirt. This simple garment, originally conceived as underwear, has transcended the barrier of time and trends, emerging as a must-have item for anyone wanting a timeless, versatile and cool style.
One of the most striking features of the T-shirt is its ability to adapt to the needs of each season. Whether summer or winter, spring or autumn, women's T-shirts lend themselves to endless interpretations.
With the arrival of autumn, the T-shirt takes on a new role: that of a middle layer. Worn under a cardigan or light jacket, it offers a practical and quick alternative for staying warm without sacrificing comfort and style.
Minimal and refined, the new T-shirts fit perfectly with both casual and elegant looks. Pair them with the collection's jeans and a pair of trainers for an informal outfit, or try it under a blazer with elegant trousers for a more sophisticated look. The T-shirts are available in the passepartout colours of white and black; the shiny gold logo adds a distinctive touch.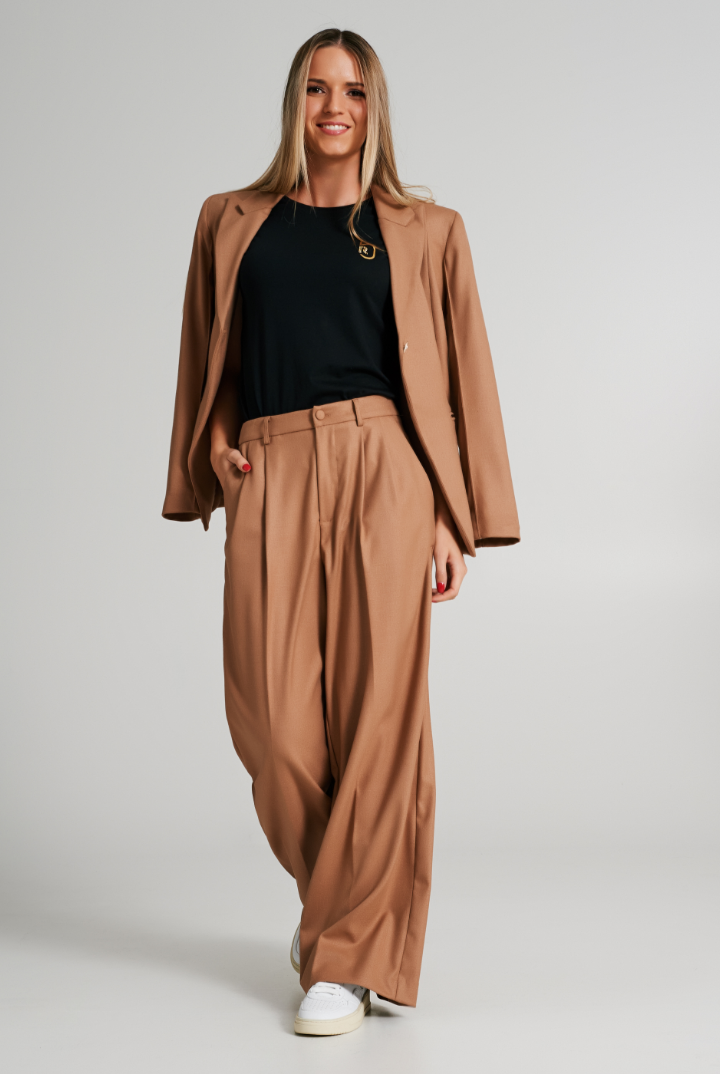 Jackets and trousers are the basis for versatile outfits that can effortlessly transform from a professional outfit to an evening look for women.
Worn together in a matching pantsuit, they are the perfect allies for those who wish to project an image of professionalism and confidence. An oversized jacket with a loose fit and impeccably cut trousers together create a suit with a modern, youthful feel. Paired with a white shirt and a pair of smart shoes, the pantsuit is ideal for the office, important meetings or special occasions.
Separated, the jacket and trousers can be combined with other pieces in endless styles to create unique, customised looks. Imagine a structured jacket worn over a silk shirt and cigarette trousers for a city cocktail look, or an oversized jacket paired with flowy trousers for a touch of sophisticated eccentricity.

The new Bantoa X Rinascimento women's pantsuits in camel and black offer the possibility to experiment and create looks that perfectly suit your individual style.

Cocktail party? Dinner with friends? Museum date? The black sheath dress is always the right answer for every event, and without doubt the most sought-after women's dress. The interpretation of the Bantoa X Rinascimento little black dress is made of stretch jersey, has a slim fit with golden sailor-style buttons and hugs the silhouette like a second skin. The sleek shape and tailored details make it the perfect choice to make you feel elegant in your everyday life, or even for business purposes.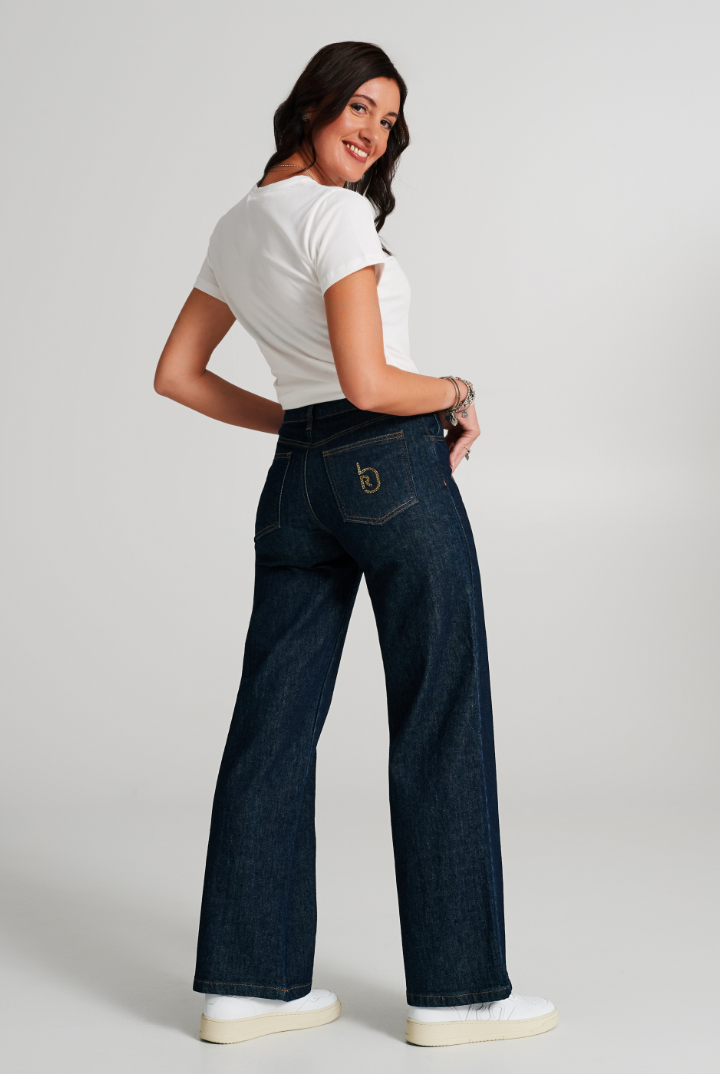 According to the latest trends, the wide-leg jeans will become a staple in our wardrobe. Comfortable and super cool, among the baggy denim trousers, palazzo models prevail in terms of versatility and sophistication and are the big trend of the season. The high-waisted women's jeans from the Bantoa X Rinascimento capsule, with the studded logo in galvanised gold, slender the figure and are perfect for all silhouettes. Wear them with a T-shirt, blazer and a pair of white trainers... all the items for a perfect casual chic look. For an evening look, you can pair them with a silk shirt and high-heeled pumps.
The garments of the Bantoa X Rinascimento collection, chosen and created by the Community of the same name, are available online on the official Rinascimento.com site and can be ordered to your preferred store.