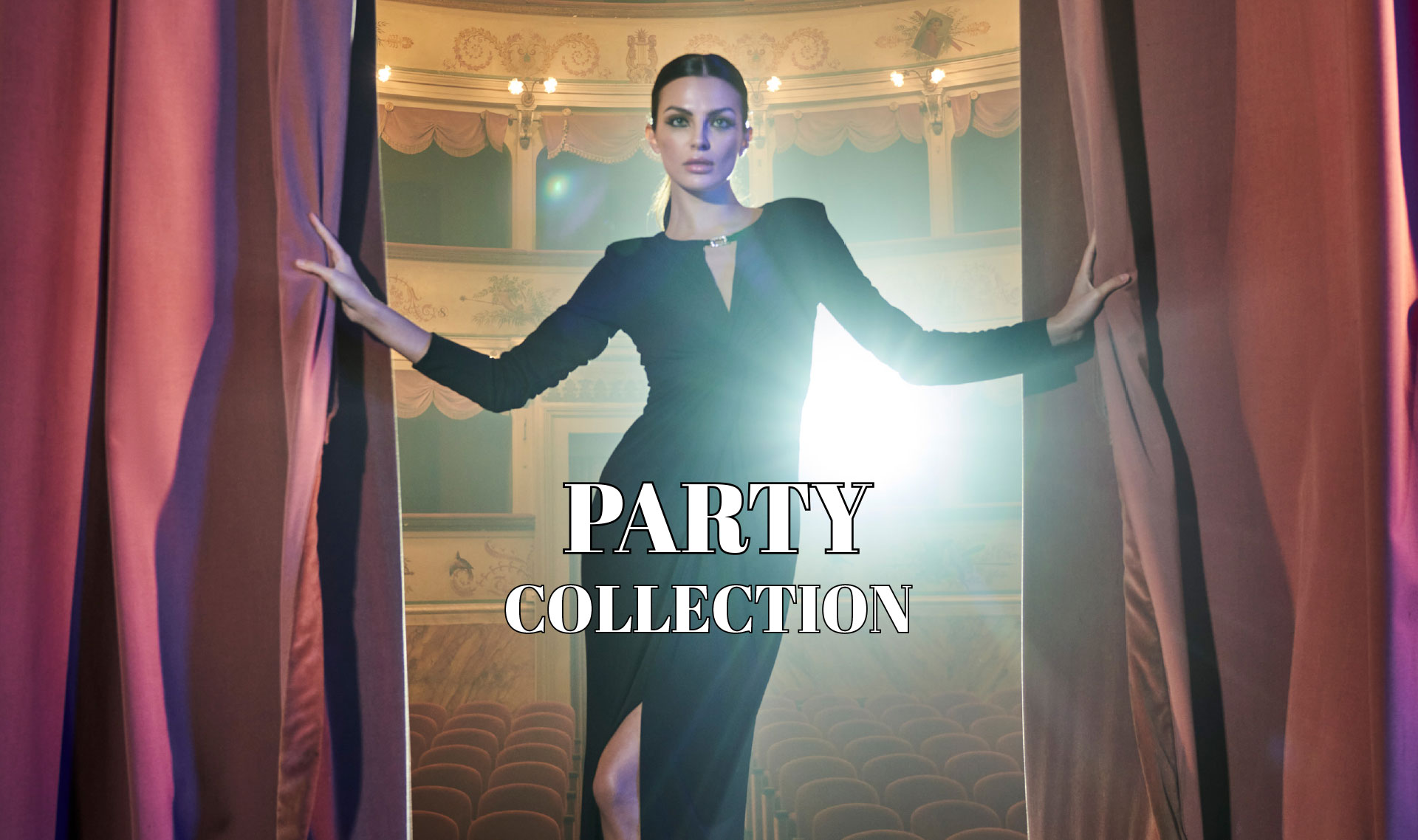 THE SPOTLIGHTS ARE ON, THE PARTY COLLECTION TAKES THE STAGE!
Whether it's an exclusive party, New Year's Eve, or a party with close friends, the password is: sparkle!
Discover our range designed for special events; we are sure our garments will make you feel beautiful and sparkly, like the true star of the evening.
Choosing the right outfit can be tough. SHORT ON IDEAS? NO WORRIES, WE'RE HERE TO HELP YOU!
Whether it's a long dress, short dress, jumpsuit or suit, your outfit is waiting for you!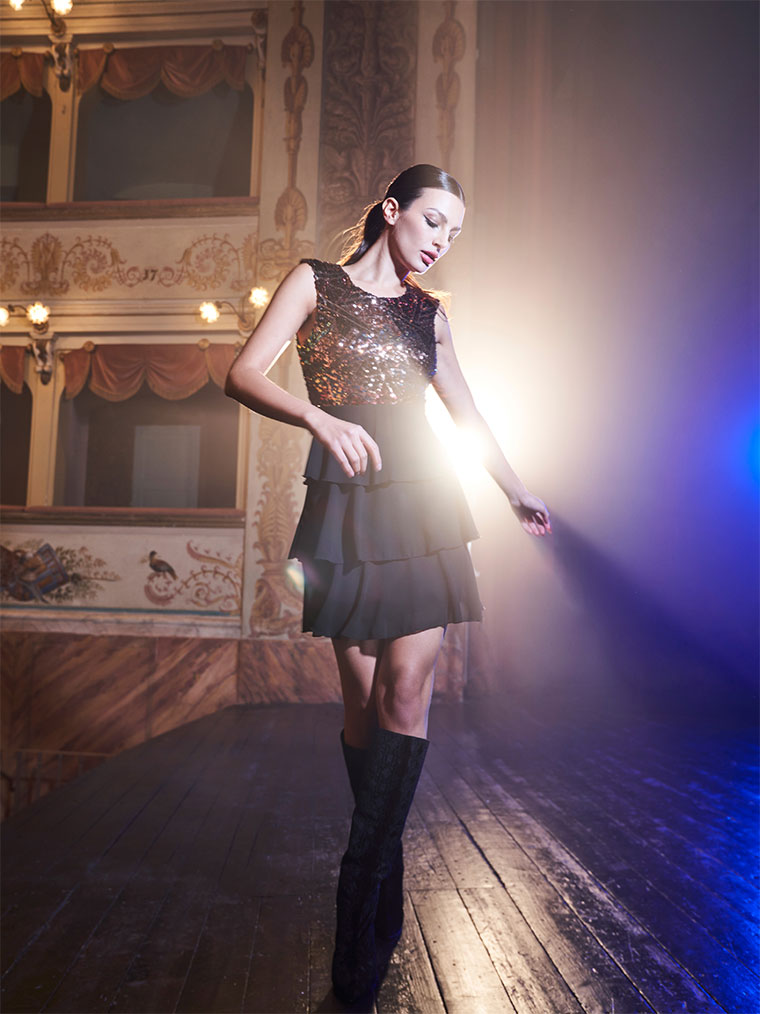 SEQUINS, SPANGLES, LUREX & CO.
Your garments will come to life under the spotlights and dance floor lights, creating a dramatic sparkling effect.
Multicoloured sequins are a must-have of the Party Collection AW 22-23 and will win over even the most stylish woman.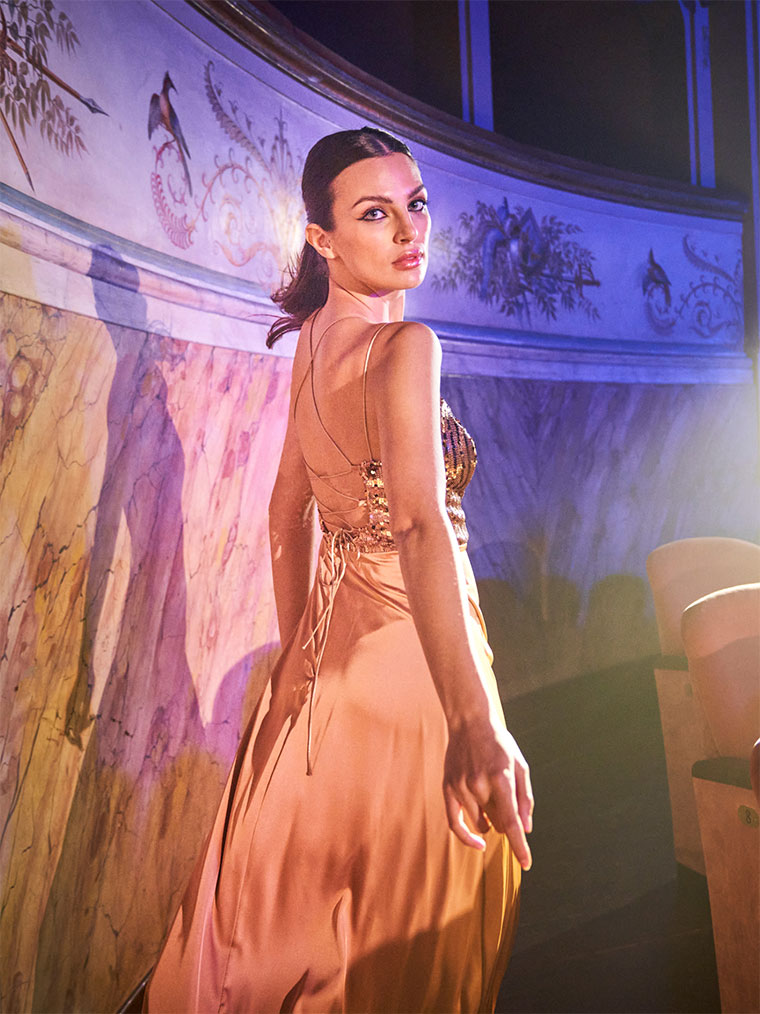 Discover the all over version on the sheath dress with a sophisticated silhouette, a hyper-feminine version on the flounced dress, or even on the trendy crop top, to be worn with a pencil skirt with a slit.
If you prefer single-colour versions, we recommend going all out with gold—you won't need anything else for a stunning outfit.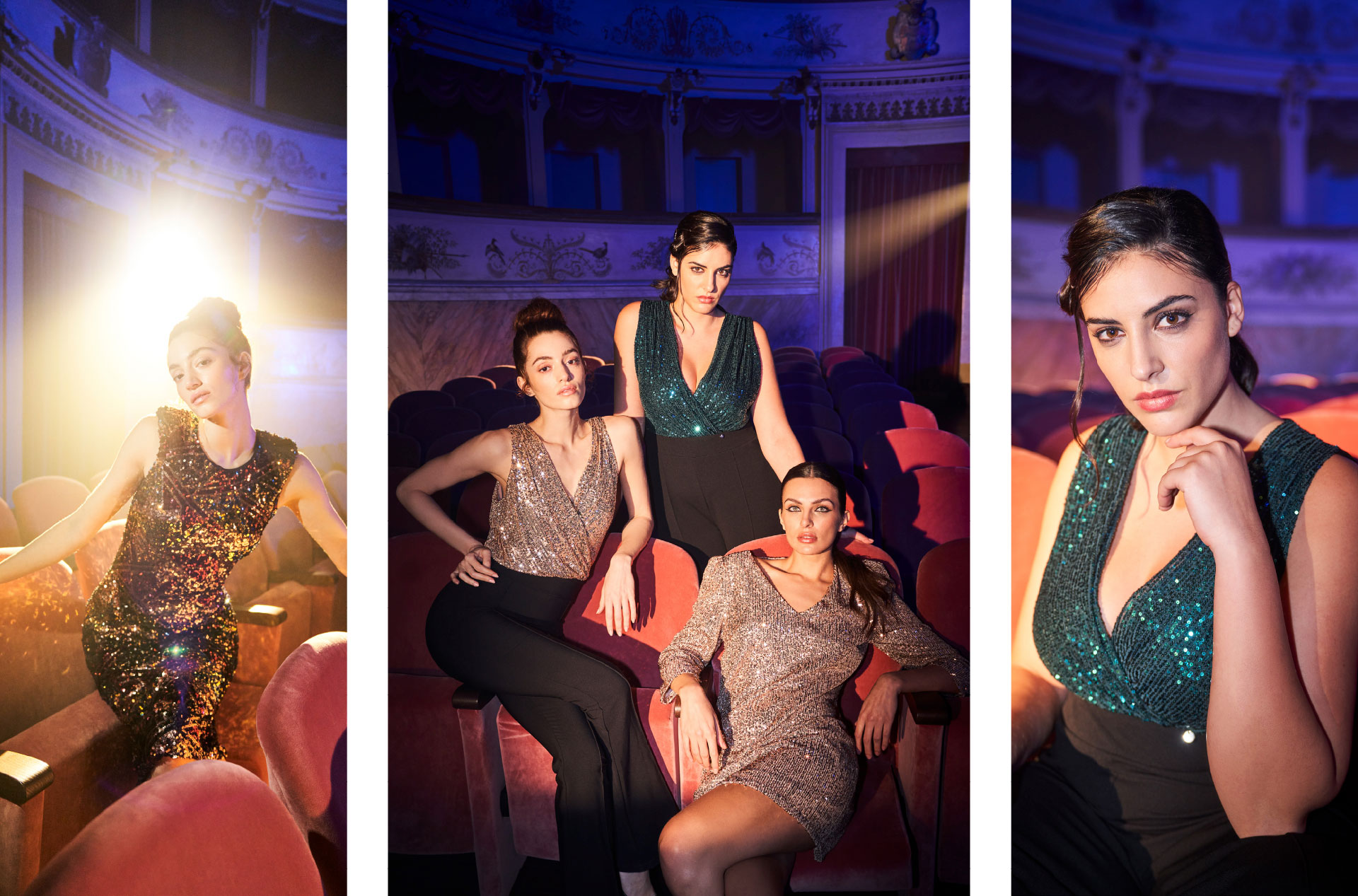 WHEN IN DOUBT, WEAR BLACK!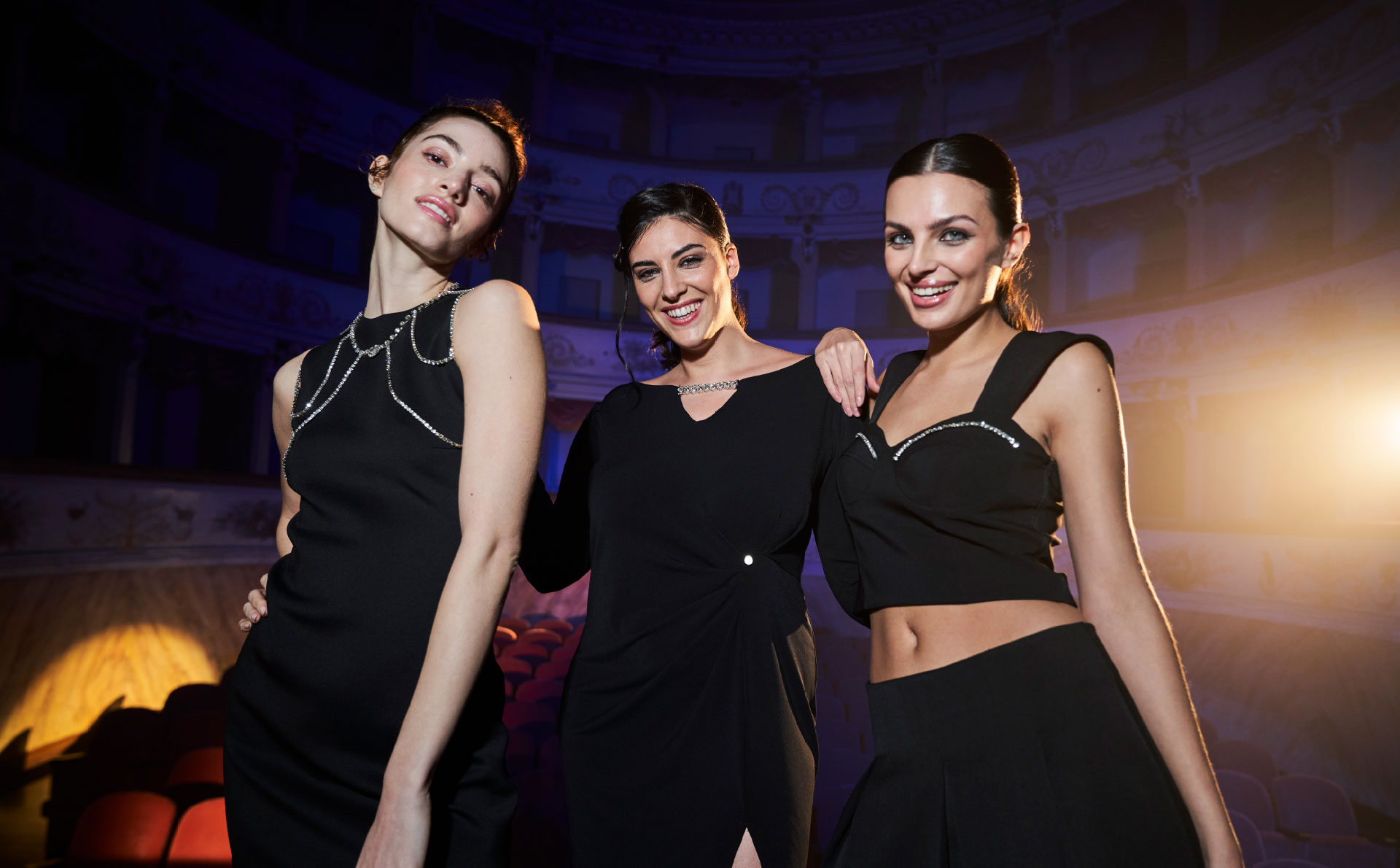 BLACK PASSEPARTOUT: ONE COLOUR, INFINITE VERSIONS!
The luxurious jersey dress with chain detail completely won us over: its graceful and essential silhouette is perfect for being the most elegant guest, or host.
An extra glamorous touch? The plume-effect organza insert on the mini sheath dress.
Infinite variations for the classic black trousers: hyper trendy in the extra wide version with a covered belt, gorgeous high-waists with gold buttons, gritty leather-look, high-waisted shorts with covered buttons, to be worn with our monogram velvet boots.
A shiny touch is enough to brighten up even the simplest entirely black garments!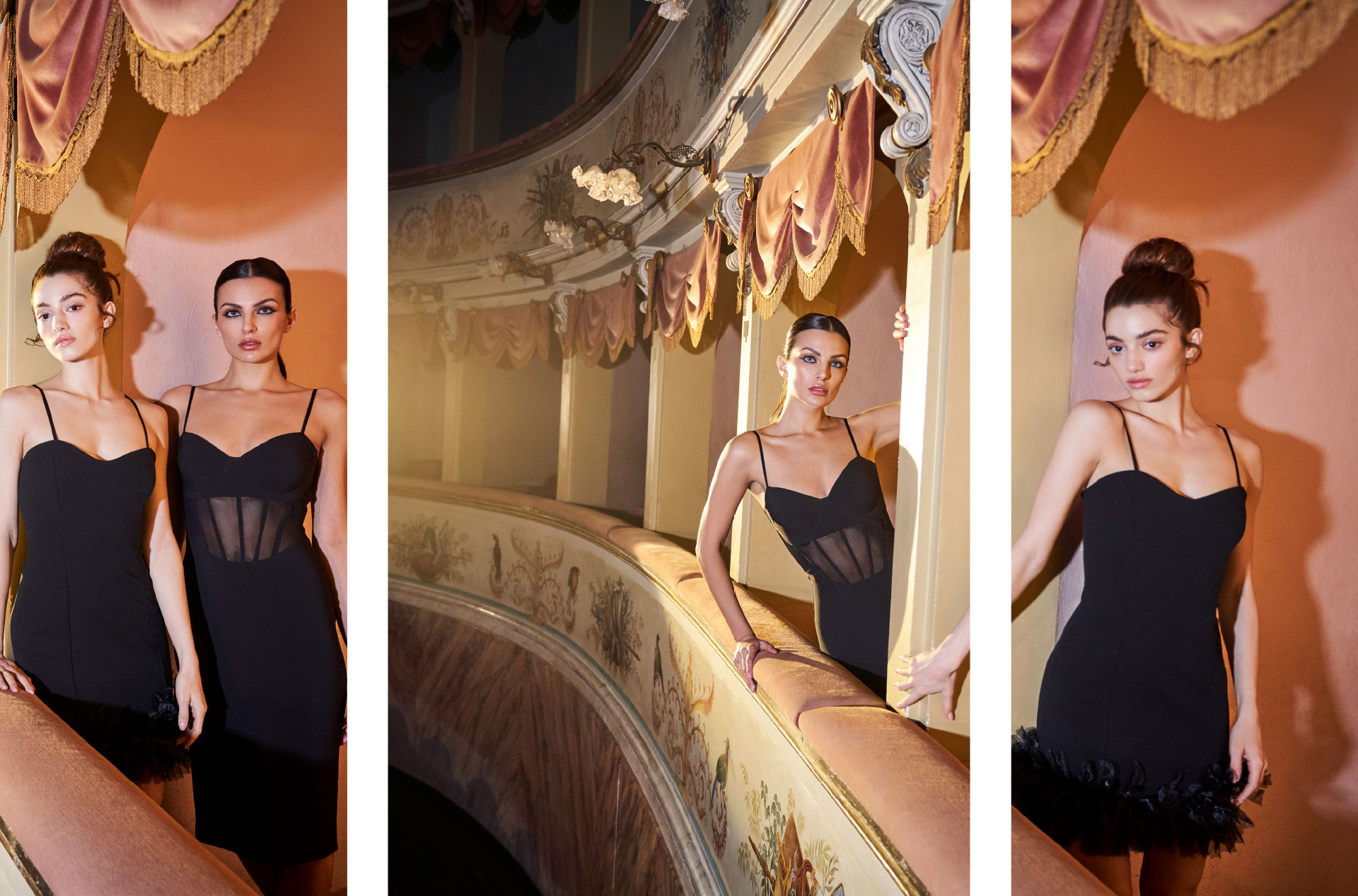 WHEN A DETAIL MAKES ALL THE DIFFERENCE!
The sheath dress with splints and tulle inserts creates an elegant yet seductive effect. To complete the outfit, choose the matching shrug.
Do you want an innovative garment that combines the best of long and short dresses?
Choose our high-low models, made of lurex fabric. The panelled skirt features a dramatic slit effect, creating a unique, spectacular movement that accompanies the silhouette. Available in gold or black, it's perfect to be combined with the short fake fur jacket, which is extremely soft and 100% cruelty-free.
THE FINEST FABRIC, it's perfect for wearing on the most elegant occasions.
A stylish detail to wear as an all-over pattern or as a sophisticated touch that will embellish any outfit.
A must-have of the Rinascimento Collections, it's available in many versions: floral design, macramé, rebrodé, doubled or chantilly effect.
Long and short dresses with sophisticated volumes: from the maxi dress with a tulle full skirt or the knee-length sheath dress with sur ton lace insert, to the double macramé lace mini dress, to wear with a matching shrug.
Jumpsuit lovers will not be able to resist the ultra-glam and seductive palazzo jumpsuit with lace yoke.
Complete your "total lace" outfit with our lingerie range, made of soft net with a floral design.
Available in different shades, for New Year's Eve, we recommend the lucky, bright red bra and briefs set!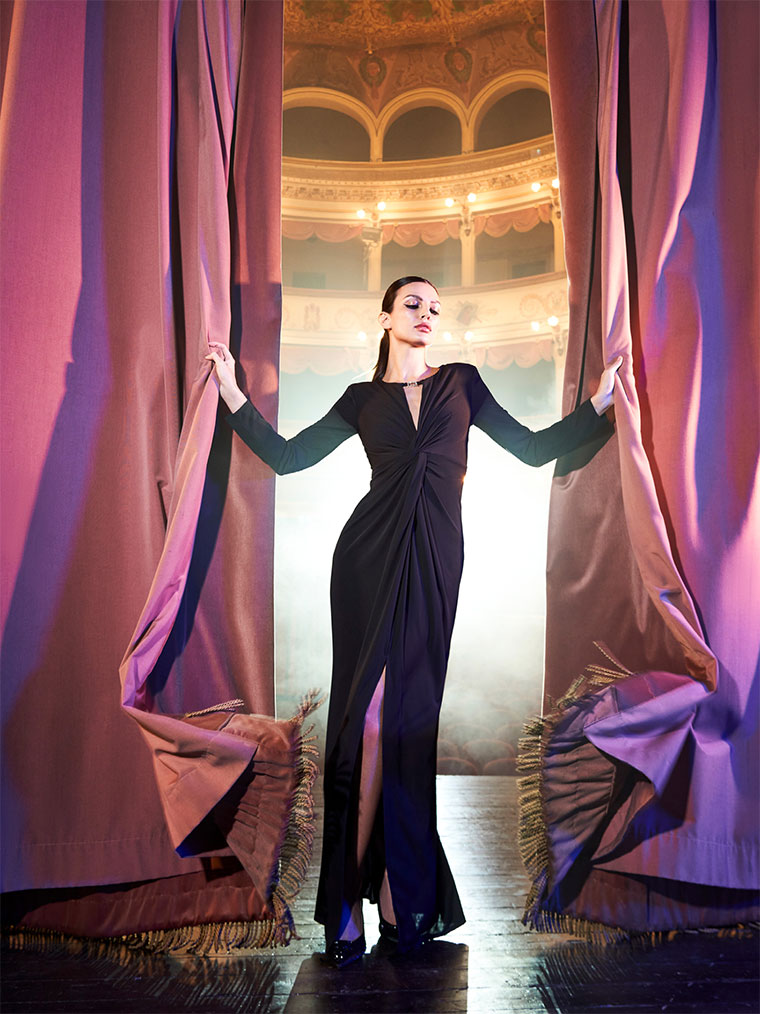 Drapes wrap the female body in soft, sophisticated volumes, for an alluring contour and comfortable fit.
Our garments are carefully and skilfully designed: artfully placed drapes help define the silhouette, enhancing your shape and drawing attention away from crucial points.
New Year's Eve in the mountains? This calls for a casual, warm, but still feminine and chic outfit.
We have many knitted and woven dresses with a soft and warm feel, designed to suit every physique: full-length, "A Line", sheath dresses, draped.
Combine them with a pair of ultra-warm tights and feminine boots: you will feel great even in the coldest temperatures.
To complete your look, check out our Accessories & Footwear Collection.
Lots of models and colours, to be flawless down to the last detail.
Our Customer Service is always available to guide and advise you in choosing your special looks!