Giorgia Palmas x Rinascimento
Rinascimento presents its Party-Time collection with beautiful garments for sophisticated and stylish looks always in tune with the latest trends in collaboration with Giorgia Palmas, a popular Italian celebrity, who exudes elegance and confidence.
Giorgia shows off the new Rinascimento looks for Christmas events through her Mediterranean beauty and her unquestionable taste in Made in Italy fashion in a warm and intimate atmosphere.
Her stylish selection includes sophisticated long dresses studded with sequins that sparkle with light and reflections, micro dresses embellished with fringes inspired by the 1920s and revamped with a modern and elegant feel, and long, ultra-shiny dresses.
The perfect solution for last-minute events is an elegant and feminine all-black micro sheath dress or a wet-effect satin suit in a sporty-chic style with a loose fit, to be accessorised with high heels, gold accessories and a matching clutch.
The selection includes striking and bright outfits in full festive mood, ready for the cameras.
The buzzword of the season? SPARKLE!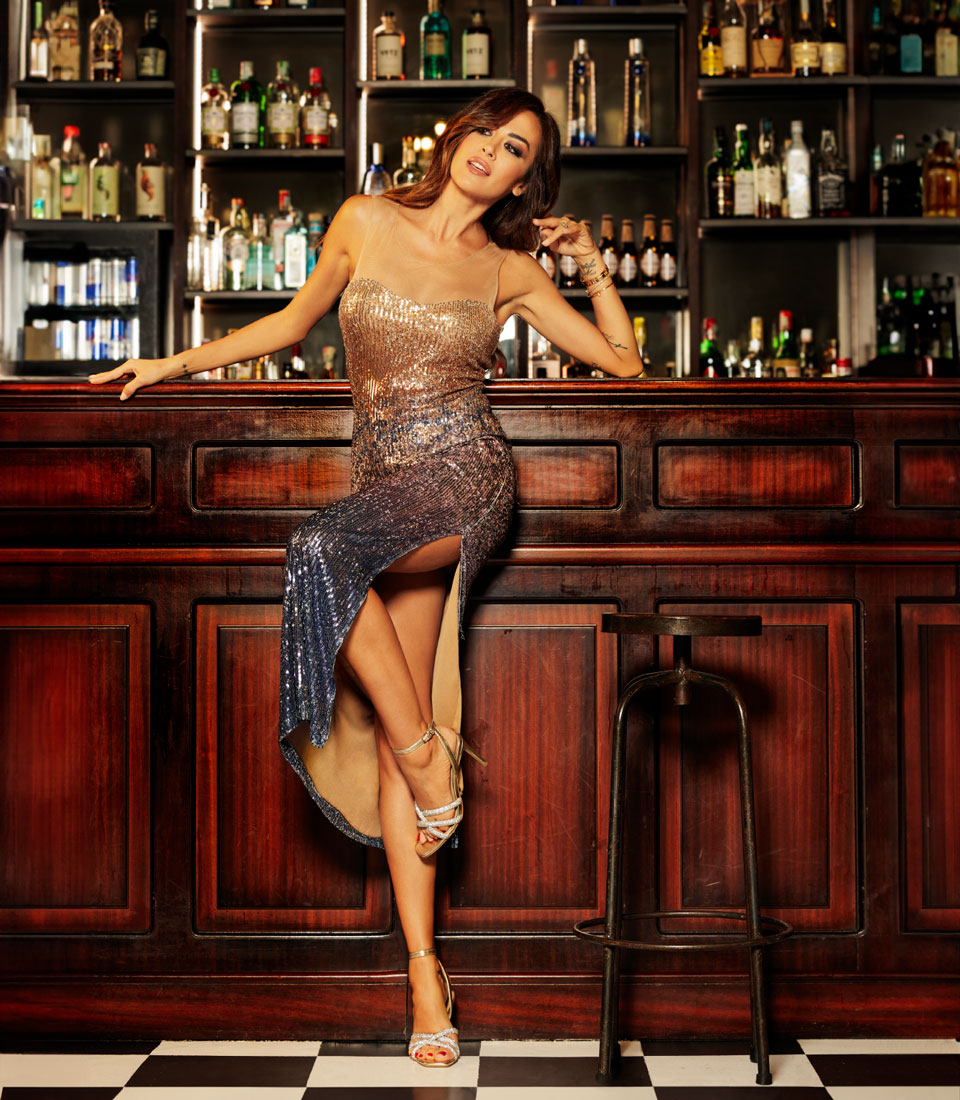 The charm of sequins never goes out of fashion and the ultra-bright trend returns to light up party dresses for winter grand soirees such as the long-awaited New Year's Eve party.
Giorgia chooses a midi dress with a deep side slit, completely studded with rainbow sequins in delicate tones and shaded with a layer of very thin tulle on the cleavage with a second-skin effect, which creates an intriguing see-through effect.
The dress has a tight fit that hugs all shapes to perfection, for an ultra-feminine result perfect for welcoming the New Year in style.
Take inspiration from Giorgia and choose a trendy dress, ideal to pair with a classy cropped jacket and all-black contrasting accessories.
The time has come to show off the most sparkling garments in your wardrobe without being afraid to be daring!

For women with a versatile attitude who love a coordinated outfit, this selection presents the shiny satin suit in a new light. The chic cargo-style trousers with a contemporary cut made of satin feature sporty details such as practical side pockets and elastic ankle cuffs for a baggy effect. The completely unstructured jacket is fastened with a fabric belt, like a modern and sophisticated robe that cinches the waist, adaptable to all body shapes.
For important dinners in the coming weeks, romantic dates or social cocktail parties with friends and colleagues, the timeless all-black jacket and trouser suit is always the right solution!
Embellish the look with a touch of gold with your jewellery and accessories. Giorgia pairs it with a strapless, seductive and flirty crop top with sequin inserts, which emphasise her shoulders and cleavage.
The satin suit is completely versatile and can also be combined with a basic bodysuit worn under the jacket for a more minimal and clean look.
Elevate yourself with this sophisticated look with details that combine romantic classicism and a glamorous spirit.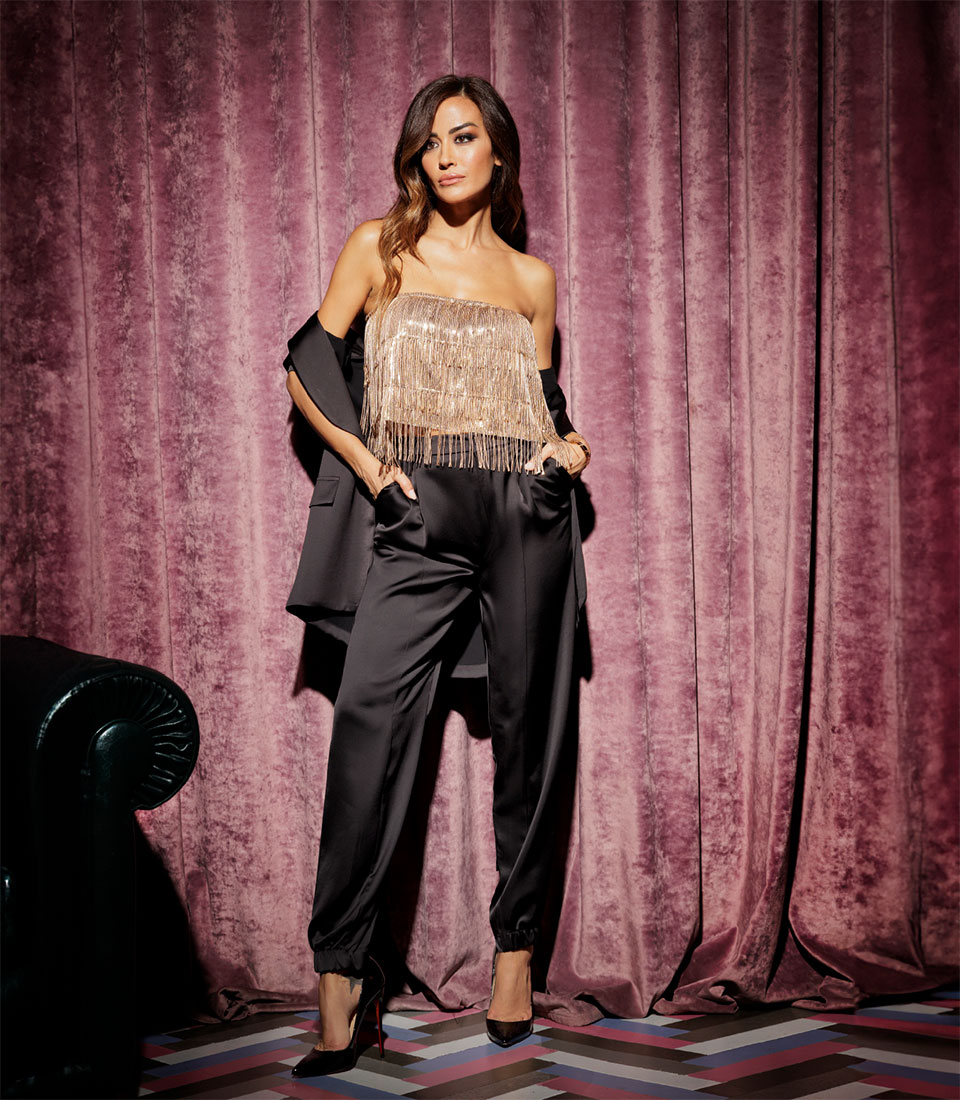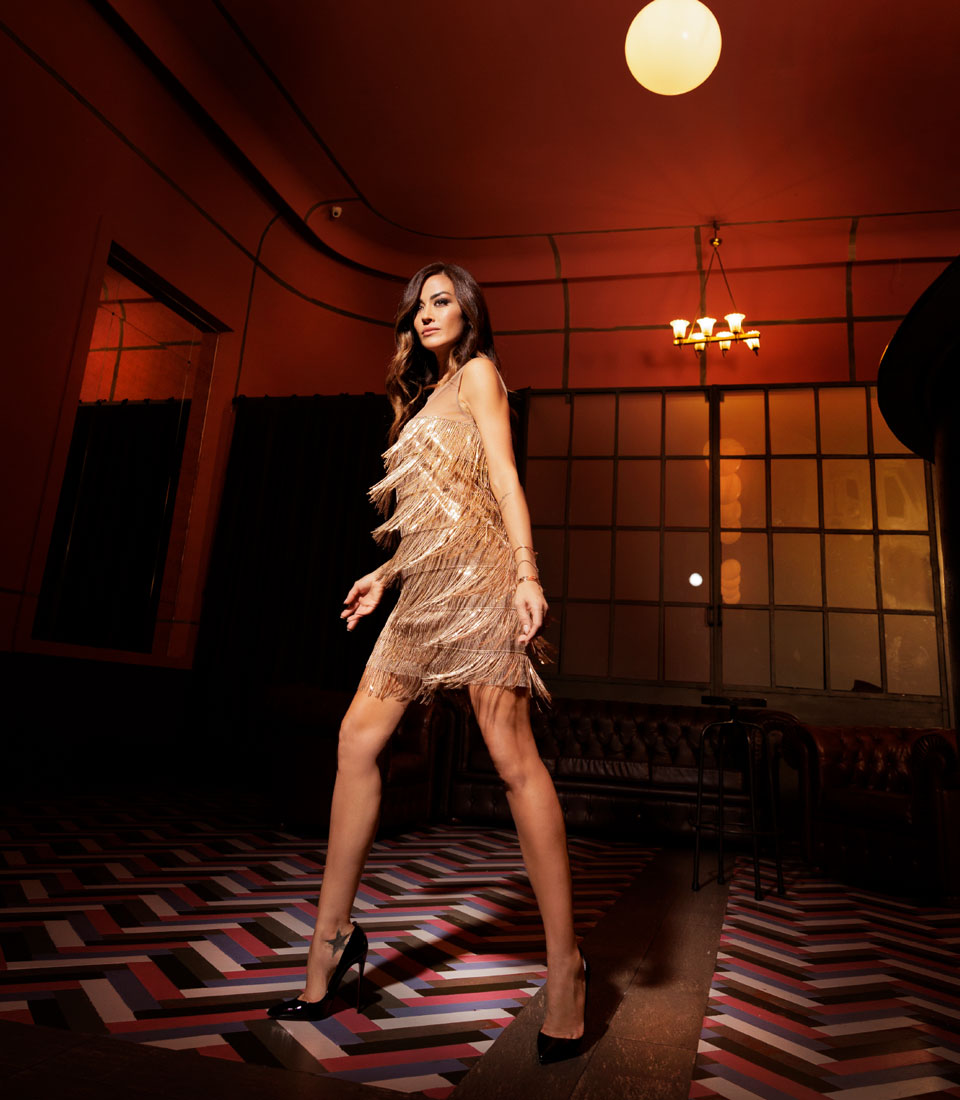 The undisputed stars of the Party Begins selection are fringes. 
Fringes are a recognisable detail that returns periodically over time, used as decoration to complete a unique and dramatic garments.
With this golden dress we rediscover a Charleston style, with long, fluttering fringes, for an on-the-go outfit that sparkles with elegance.
The fringes that embellish the hems of the dress and top from the same collection, are increasingly ornate and glamorous, added as a trendy detail to give panache and character to party looks in the winter season.
Total gold is an intense, luxurious and richly shimmering colour, the ideal choice for a Christmas party look or for a tres-chic corporate dinner in an exquisite location. Look sexy, elegant and super glamorous—never going unnoticed!
Are you ready for unforgettable nights?

Whatever your favourite outfit, the important thing is that it should be bright and flamboyant, pure light and movement, in keeping with the festive, bubbly mood.
Have fun choosing the right accessories to embellish your outfits.
Bright glittery footwear, jewelled clutches studded with sparkling rhinestones, and super shiny fabrics and chains are essential details that will give an extra boost to your looks.
Get ready to celebrate the upcoming festivities with the newest evening dresses selected by Giorgia Palmas. Choose your ultra-sparkly outfit. 
On New Year's Eve anything goes, paint your lips red and get ready to be the star of the night!